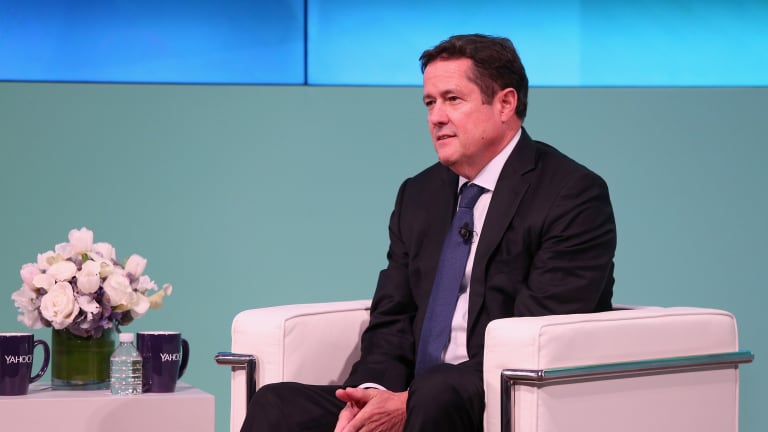 Jeffrey Epstein's Banker Screws Over Jeffrey Epstein's Bank
Jes Staley, who once bought a hedge fund with Epstein's help, is taking his piece of Deutsche Bank's prime brokerage.
Earlier this week, we marveled at how a thing called Deutsche Bank still exists, rather than having collapsed into a black hole swallowing all of Frankfurt, even after the revelation of its latest scandal, that of its long and deep relationship with possible financier but definite sex criminal Jeffrey Epstein. Well, today there's even less of Deutsche Bank, specifically less of its once-industry-leading prime brokerage, thanks to a guy with an equally long and deep (if not longer and deeper) relationship with one Jeffrey Epstein.
The British bank, run by ex-J.P. Morgan executive Jes Staley, has persuaded hedge fund clients with $20 billion in balances at Deutsche Bank to move to Barclays, according to people with knowledge of the situation. Half of that amount is from a single client, the people said…. Deutsche is under pressure to close its deal with BNP Paribas because clients have been pulling roughly $1 billion in balances a day….
Hmm, awkward, given the one bit of hedge fund business we know Epstein was actually involved in.
When Jeffrey Epstein was serving time in Florida for soliciting prostitution from a minor, he got a surprising visitor: James E. Staley, a top JPMorgan Chase executive and one of the highest-ranking figures on Wall Street….

Mr. Epstein connected Mr. Staley with Mr. Dubin, who at the time was running Highbridge, one of the country's largest hedge funds, according to people familiar with the relationship…. A few years later, in 2004, Mr. Staley orchestrated a deal in which JPMorgan bought a majority stake in Highbridge.
On the other hand, since the Highbridge deal made Staley's name, and because he's got a point to make vis-à-vis investment banking at Barclays, we're guessing he's not losing too much sleep over all of the gross coincidences.
Barclays nabs $20 billion in hedge fund business from beleaguered Deutsche Bank [CNBC]
Jeffrey Epstein's Deep Ties to Top Wall Street Figures [NYT]