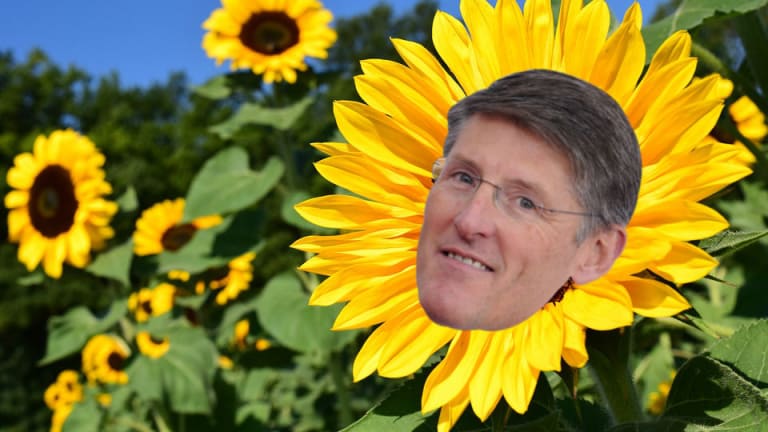 Mike Corbat Will Fire All Of You If That's What It Takes To Hold On To This Feeling
The Citi chief has scratched and clawed his way to the top from the depths, and he's not gonna let anyone—least of all bankers—drag him back down.
It wasn't long ago that Mike Corbat was a figure of pity among his fellow bank CEOs, presiding over an ever-raging dumpster fire of a Zen-garden-less bank. But would you look at him now?
Citigroup was one of the hardest hit US banks during the 2008 financial crisis. But it's the king of Wall Street so far this year.

Shares of Citi have soared nearly 40% in 2019, outpacing the gains of big banking rivals JPMorgan Chase, Bank of America, Goldman Sachs, Morgan Stanley and Wells Fargo.
That's no mean feat, given that every one of those banks not named Wells Fargo is having a pretty good year, too. And it continues:
Citigroup said Monday its second-quarter net income rose 7% from a year ago. Quarterly profit was $4.8 billion, from $4.5 billion from a year ago. Per-share earnings were $1.95 a share. Analysts had expected $1.81 a share.

Revenue at the bank was $18.76 billion, up 2% from $18.47 billion a year ago. Analysts polled by Refinitiv had expected $18.5 billion.
The success is going to Corbat's head a bit. While the topline numbers were good, trading was less good, with revenue down 5% excluding a one-time gain. That's pretty common among the big banks these days, but Mike Corbat isn't willing to let this feeling go, even if it means going all Deutsche Bank on Citi's investment bank.
At Citigroup Inc., bean counting and boring banking are in ascendance. Trading, not so much…. "We're going to do everything within our power" to meet a goal of a 12% return on tangible equity this year, Chief Executive Officer Mike Corbat said in response to skepticism from analysts regarding the target during a conference call Monday. The firm won't end planned investments in technology or risk its efforts to improve safety and soundness, he said. "But everything else is on the table."
Citigroup Reports Profit, Revenue Boost [WSJ]
Citigroup is now the darling of Wall Street [CNN]
Citi CEO Vows Cost-Cutting Success to Continue as Trading Slumps [Bloomberg]