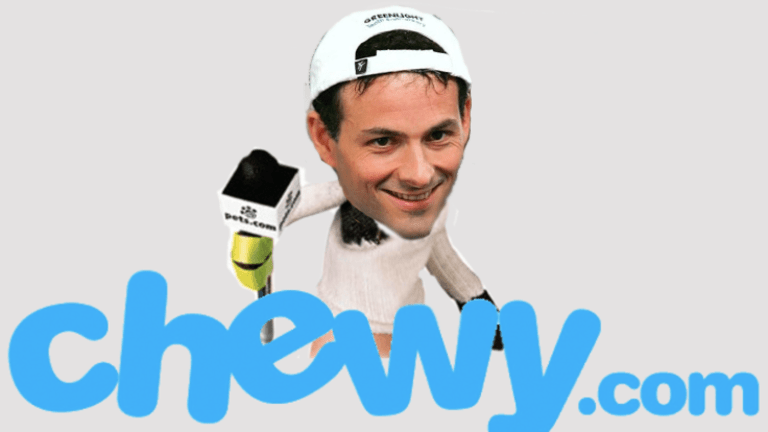 David Einhorn Steals Our Joke In Q2 Investor Letter
Yeah, Chewy IS a lot like Pets.com, David, where have we heard that before?
Once proud former hedge fund titan David Einhorn has had a tough go of it in recent years. 
He's lost a phenomenal amount of money for his investors by developing an Ackmaniacal dark obsession with Tesla, spending 2018 making only bad investments, and fallen entirely from the ranks of billionaires. The guy even lost money on Aspirin.
And while we have mercy for Ol' D-Hornz, does he have to start stealing our material?
Greenlight Capital's David Einhorn, who successfully made bets against companies including Enron, is likening hot IPO Chewy to dot-com bubble poster child Pets.com.
Umm, what?
In his quarterly letter to clients, Einhorn also trumpets a successful short position in Tesla but does not specifically mention if the fund is betting against Chewy.

"For those that think the 2000 bubble was the big kahuna, consider Chewy, which went public in June 2019," Einhorn said.

Shares of the online pet retailer were up more than 2% Thursday, and have soared more than 50% since its public debut in June. Einhorn pointed to Chewy's current debt and market value, which he said is 30 times the value of Pets.com at its peak, as reasons for skepticism.

"Over its life, Pets.com chewed through just over $200 million of investor capital," Einhorn said. "CHWY has burned $1.6 billion and counting."
Wow, Einhorn, way to steal our analysis from like seven weeks ago, BRO!
Yeah, we see you, joke thief. Out there trying to pass off our totally original humor [no one else could have possibly drawn the line between these two...please don't check Twitter] to your investors and pretend it's your investment idea. For shame, David Einhorn, FOR SHAME.
But hey, if you're reading Dealbreaker regularly and plumbing us for ideas, you're clealry close to rock bottom and in search of some new truth. And if that is the case, then please refer to this gem from last summer in which we showed you the way to true happiness.
SPOILER: It's not stealing our shit, David.
Hedge fund manager Einhorn likens Chewy to dot-com bubble poster child Pets.com [CNBC]