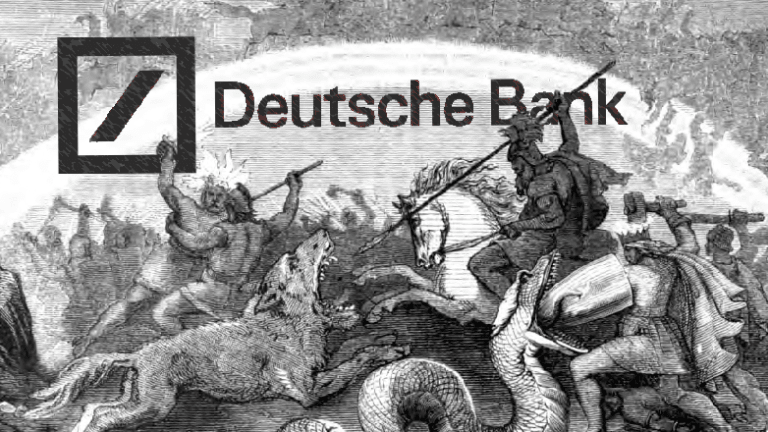 Deutsche Bank Informing 18,000 People That It's Basically A Community Bank Now, And Also They Are Fired
The Age of Denial is over and the Deutsche Bank we know is truly dead.
It was always going to come to this.
A note from Deutsche Bank CEO Christian Sewing to his staff:
Dear Colleagues,

At the Annual General Meeting in May I said that we would speed-up the transformation of our bank significantly, that we would have to take faster and more radical action. Since then, many of you have asked me when we would announce concrete next steps.

Today is that day: After further stabilising our bank last year, we are now entering the next phase – and that means nothing less than a fundamental transformation of our bank.
And that transformation will be brutal. Deutsche is finally killing off its global equities group, building that "bad bank" it has flirted with for months, and also laying off about 18,000 people. That last number -- even for us -- is a holy shit moment.
Here's Sewing's version of that:
Going forward, we will have four businesses that will be entirely focused on our clients.
We are focusing our Investment Bank, we will be less dependent on Sales & Trading and are shrinking our balance sheet.
We are creating a Corporate Bank which will be at the centre of our bank.
We aim to reduce our adjusted costs by over a quarter and to simultaneously invest 13 billion euros in technology by 2022.
And we are not asking our shareholders to pay for this transformation but instead plan to return capital to them.
We're not getting a lot of whispers from inside Deutsche [most of our sources are likely getting laid off] but one tipster inside the NYC office did take the moment to let us know that "They sent an email this morning. Layoffs going down in bulk," adding Everyone doing comps on severance. Hardest work I've seen in weeks."
Deutsche's stock price plummeted at the open but is bouncing back a bit as the street digests what kind of survival odds DB has as an old-school investment bank. But we think that things would be even more bullish if Sewing and Paul Achleitner [who has to fire himself now] just embraced the reality of turning Deutsche Bank into a credit union for Frankfurters looking to refi their condos.
If you're a newly-freed Deutsche Banker, hit us up: tips@dealbreker.com