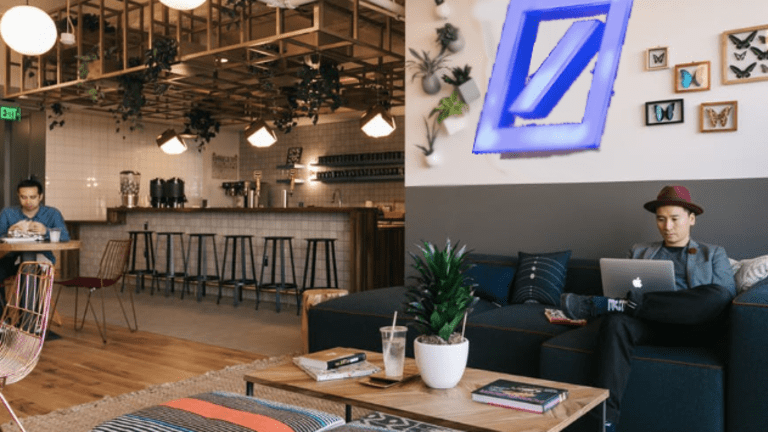 Deutsche Bank Thisclose To Launching A Co-Working Startup In The Vast Emptiness Of Its London Office
Please, call it "VeVork."
We all know a Dougie. Your buddy from college who is always doing things like selling shares in his Air Jordan collection, driving a Lyft with your car and Airbnb'ing the extra bedroom in his condo that he bought when he "at his old work." Dougie is always struggling with cash flow, but he's a borderline ascetic who never runs out of ideas, and he doesn't care about what people think.
Deutsche Bank is such a Dougie:
Deutsche Bank AG is considering subletting the London offices occupied by its wealth management business and its asset-management arm DWS Group, according to people with knowledge of the matter.
Subleasing office space that you can no longer afford to fill is some 2009 shit though. This is 2019, so Deutsche Bank should really engage with its inner Dougie and thing bigger. What kind of real estate are we talking here?
The bank has discussed the possibility of moving staff out of the Zig Zag building near Westminster Cathedral, though no decision has been made, said the people, who asked not to be identified because the deliberations are private. Deutsche Bank signed a 15-year lease for the property with Land Securities Group Plc and started moving employees in two years ago. Property Week reported the news earlier.
That's some primo location and a long enough lease to get truly creative. If only there was a blueprint for monetizing a real estate arbitrage scheme in this new global economy...WAIT A MINUTE!
A hip co-working space in London run by Deutsche Bank? It's brilliant! Cater to fintech startups and see if any are worth acquiring on the cheap, charge absurd rents, keep costs low [we think the bank that fired fruit can achieve this] and voila; the kind of Deutsche 2.0 success that Chrisitan Sewing has craved for months! He could even call it "VeVork."
And it would be a good testing ground for Deutsche to really rethink its real estate strategy lest it end up like UBS in Stamford...
The bank has separately signed an agreement with LandSec to move its U.K. headquarters to a building being constructed at 21 Moorfields in the City of London financial district on a 25-year lease. The project won planning approval last year. The new property will have space equivalent to about 10 soccer fields and is expected to be completed in 2021.
Oh mein Gott! That's going to be a huge VeVork.
Deutsche Bank Considers Subletting Zig Zag Offices in London [Bloomberg]