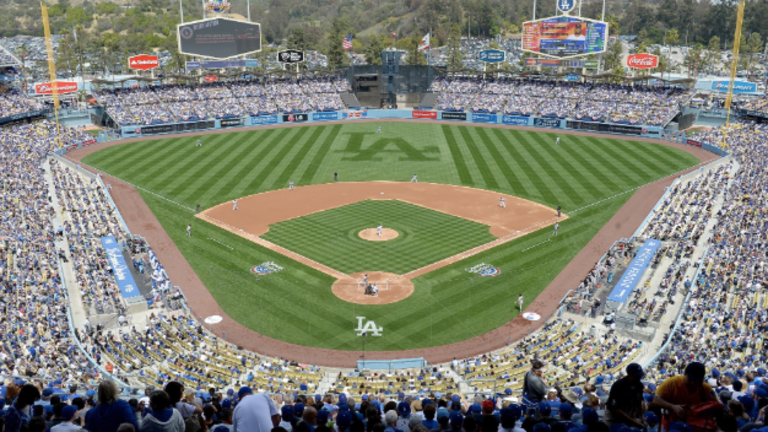 The Dodgers Are Looking To Sell Naming Rights That No One Will Really Use
Corporatization and politics are intrinsic elements of a pro sports landscape that is actively trying to discuss neither.
When you're already squeezing money out of every crevice that you can possibly think of, as any good capitalist venture does, and as shown by Major League Baseball's onward march toward putting corporate logos on team uniforms, a delicate balancing act emerges between the value of collecting every last dollar and those pesky consumers who might be turned off when an entertainment product reaches an uncanny valley where it feels too much like an infomercial come to life.
Rare is the moment when we get to see the struggle laid bare, but it happened this week as plans were announced for a renovation of Dodger Stadium that could include naming rights, not to the stadium itself, but to the field.
As Bill Shaikin wrote for the Los Angeles Times, "The lure of national attention from next year's All-Star game could prompt a corporate sponsor to pay up to put its name and logo on the field. … No deal appears imminent, but team president Stan Kasten said it is worth exploring whether a sponsor could find a beneficial deal when fans would simply continue to call the ballpark Dodger Stadium."
Kasten is right on both counts. It is worth exploring for the Dodgers, because there's money to be made, and also no fans would use the corporate name. The best parallel to be drawn is non-corporate, as Duke has played on Coach K Court since 2000, but obviously, anyone talking about the Blue Devils' home refers to Cameron Indoor Stadium.
While a corporate name wouldn't be on the lips of fans, a sponsorship would be duly noted with visible logos and awkward-at-first-but-eventually-routine drop-ins from play-by-play announcers, who already say things like "the Bigelow Tea broadcast booth" several times a game, or, when the Mets are at home at new Shea – er, Citi Field, "the Bob Murphy Radio Booth sponsored by Bigelow Tea." Naming rights for the Dodger Stadium field might wind up being something like a super-deluxe ad, providing value even if no member of the general public ever speaks a company's name – and in that case, bringing slightly less potential for eventual embarrassment like the case of Enron Field (do click that link, it's an amazing piece of 2000 ephemera). In other words, we're all itching to see Deutsche Bank Field at Dodger Stadium.
If the Dodgers did sell the name of their playing field to Deutsche Bank, there would be inherent political ties to talking about it, not unlike the Ricketts-owned Chicago Cubs partnering with Sinclair on a regional sports network. And that would be tough to take for MLB rightsholder ESPN, who conducted a poll finding that its viewers don't want politics getting in the way of their sports. On that point, and the precarious position of Dan Le Batard at the Worldwide Leader, former ESPNer Jemele Hill wrote brilliantly at The Atlantic about how -in this moment - it is impossible to separate politics and sports entirely.
But it's not just this moment. The renovations to Dodger Stadium might be privately financed, but there's plenty to be said about corporate taxes, infrastructure, labor relations, performative patriotism, and all sorts of issues that might not be on the tip of the tongue as Kenley Jansen throws a 3-2 pitch with the bases loaded in the ninth inning, but always should have a place to be discussed. That should include radio and television talk shows, like the ones hosted by Le Batard, and for ESPN to even act like it's possible to completely avoid politics in sports by putting the question out there is to live in a totally different sort of uncanny valley than the one the Dodgers will scout in Chavez Ravine.