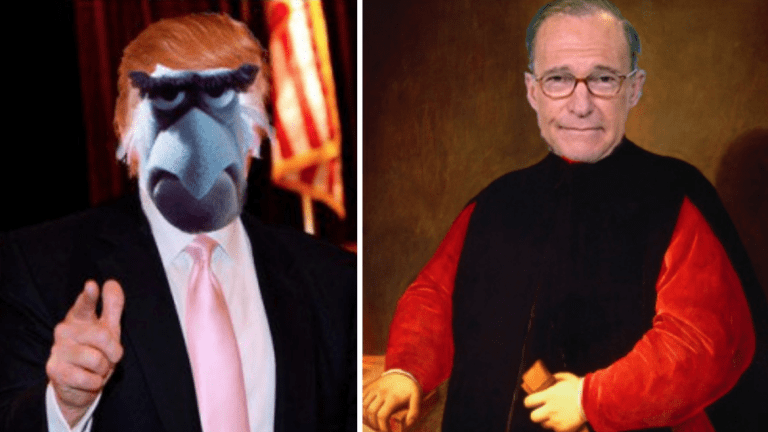 Donald Trump Officially Trying To Kill Larry Kudlow
The president is looking to hurt Kuddle's BFF, King Dollar.
Larry Kudlow has undergone at least two major surgical procedures in the last 12 months and come out in what he would describe as "Fine fettle," but it now appears that his boss is looking to take him out using just his thoughts...
President Donald Trump has grown concerned that the strengthening U.S. dollar is a threat to his economic agenda and has asked aides to cast about for ways to weaken the greenback, according to people familiar with the matter.
Gotta wonder how that's going down around the office...
The president's top economic adviser, Larry Kudlow, and Treasury Secretary Steven Mnuchin both oppose any U.S. intervention to weaken the dollar, the people said.
No shit. Steve Mnuchin is the literal Treasury Secretary and Larry Kudlow is literally Larry Kudlow. Either by dint of their office or their decades-old "King Dollar" schtick, neither of these two is going to go out there and start talking down the dollar...
[I]n an interview at a CNBC event in Washington on Tuesday, Kudlow said: "Price level stability and a steady dollar is what the Fed should aim for. Not employment."
See? And as US Treasury Secretary, Mnuchin's job is to protect the value of the US currency, so...
Mnuchin caused jitters in financial markets in January 2018 by seeming to endorse a weaker dollar at the World Economic Forum in Davos, Switzerland. "Obviously a weaker dollar is good for us as it relates to trade and opportunities," he said at a briefing. He spent the rest of the conference trying to clean up the remarks, insisting there had been no change in U.S. policy.
Oh goddamit, we always forget that Steve Mnuchin doesn't know what the Treasury Secretary actually does. 
Welp, it's up to you Kuddles. We hope you can protect your friend King Dollar because precisely no one else in Trump's orbit gives a solitary fuck about doing anything other than appeasing his self-serving whims.
Trump's Concern About Strengthening Dollar Shows Up in Fed Interviews [Bloomberg]