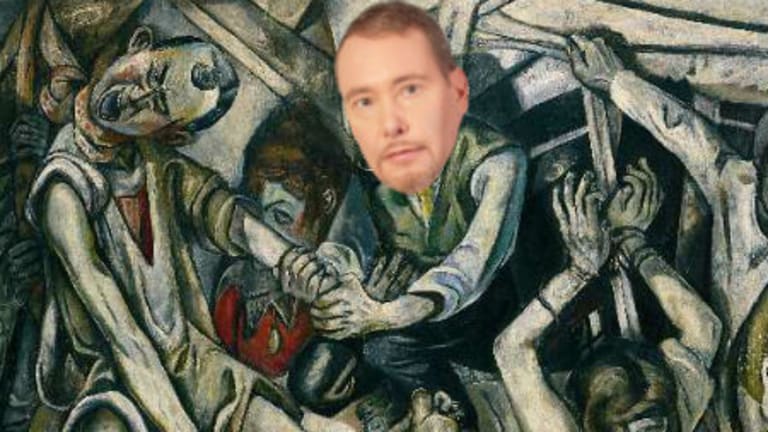 Some DoubleLiners Are Drawing The Line At Dr. Fellatio 42
Not everyone's appetite is as vast as the Great Gundlach's.
Barron's tells us that Bond Pope Jeffrey Gundlach inspires "intense loyalty" among his 255 underlings, an assertion that as far as we can see is backed up by facts beyond even the "now-very-valuable equity stakes" in his DoubleLine Capital that many of them hold. Still, loyalty and valuable equity stakes notwithstanding, it has now been 10 years since Gundlach walked out on TCW (although he forgot a number of things in his office) and opened DoubleLine and, much as we love the guy, 10 years working with Gundlach and his kaleidoscopic universe of endearing-but-also-potentially-kind-of-grating eccentricities and enthusiasms sounds like a lot. And so it has been for at least a handful of folks, including two founding partners.
Until recently, DoubleLine's roster of staff has been remarkably stable…. Lucido and Galligan were two of the firm's key early partners. Lucido left the firm at the end of last year, according to DoubleLine. Galligan, a portfolio manager, departed early this year, according to one person with knowledge of the matter….In recent months, DoubleLine's corporate credit group also saw a raft of departures. Kapil Singh, a DoubleLine portfolio manager, joined credit shop Ares Management last September. This year, Ares hired two DoubleLine credit analysts, Spencer Chang and Andrew Chen, according to their LinkedIn pages.
The unusual turnover comes amidst an unusual period of underperformance for this most unusual bond manager and his firm.
The uncharacteristic level of turnover came as DoubleLine's run of stellar performance hit a rough patch. Over the past three years, the $53 billion DoubleLine Total Return Bond fund has generated an annual 2.98% for institutional investors, beating the benchmark Bloomberg Barclays US Aggregate Bond index by 0.2%, according to Morningstar data. Over the past 12 months, DoubleLine's flagship fund has returned 6.4%, compared with 7.8% for the Bloomberg index, Morningstar data show.
Jeffrey Gundlach's DoubleLine Sees Spate of Departures [Barron's]