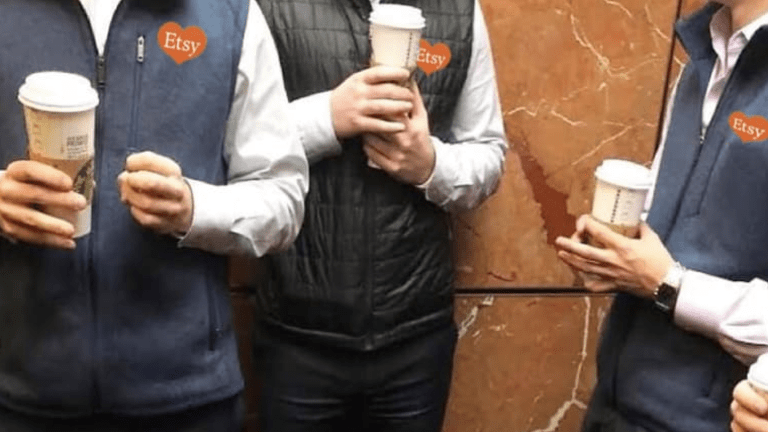 Etsy Clearly Under The Impression That It Has Earned The Right To Start Acting Like Etsy Again
Buying a platform that sells new and used music equipment for $275 million is the kind of thing we used to be able to mock Etsy for...but they've ruined that for us.
We still get a giddy tingle in the dark part of our soul when we see an announcement from Etsy in our email.
The Brooklyn-born internet flea market is one of our earliest and dearest targets of snark. All that do-gooding and hipster pathos has made for great copy in the past and we are always hoping that those bearded e-commerce goofballs are up to their old tricks, like promising a quarter of its annual revenue to buy beads for every child in Guatemala, or giving the coding team 6 months paid leave to go rebuild Flint, Michigan's water system, or buying another niche retail startup for a huge number..
So imagine our excitement this morning when this hit our inbox: "Etsy to Acquire Reverb, a Leading Online Marketplace for New, Used and Vintage Musical Instruments."
Etsy, Inc., the global marketplace for unique and creative goods, has signed a definitive agreement to acquire Reverb Holdings, Inc., a privately held marketplace for new, used and vintage music gear for $275 million in cash, subject to certain adjustments with respect to cash, debt, working capital, transaction expenses and the value of equity awards granted in connection with the transaction. Reverb, which will operate as a standalone business when the deal closes, was founded in Chicago in 2013 on the principle that buying musical instruments should be easy and affordable. Reverb's sellers are generally individuals, brick and mortar retailers, dealers of all sizes, and high-profile artists.
Hahaha, Etsy bought a used guitar site for more than a quarter of a billion in cash! That's awesome...because this sounds dumb and it's Etsy. We can't wait to read all the silly justifications for doing this...
Reverb has created a destination for the global music community to come together online. This gives sellers a global audience and musicians around the world access to more inventory and rare, highly-coveted items. The result is a liquid marketplace that fosters a loyal and passionate user base. In fact, many Reverb users are both buyers and sellers.
Oh, that sounds business-y. Boring. Give us that bad spin, Etsy!
Josh Silverman, Etsy, Inc. CEO, commented, "Vibrant two-sided marketplaces are lightning in a bottle - there are only a handful of them operating at scale - and Reverb is one. This transaction is a great strategic fit that firmly aligns with our mission of keeping commerce human. Reverb is the 'Etsy' of musical instruments, with significant competitive advantages, and we see tremendous value and untapped potential in the business."
"Operating scale"? "Strategic fit"?  "Significant competitive advantages"? What is happening, Etsy? Is this all part of that "Etsy 180" that has catapulted your little company from laughingstock to certifiably attractive equity investment? The one that looks like this?
TK
But is Etsy really ready to start buying other companies? Are these new executives really capable of doing acquisitions? They ought to be careful trying this...
"We have been successfully implementing these types of initiatives at Etsy for two years now, and are confident that we can similarly impact Reverb's business. We look forward to welcoming Reverb's talented employees to the Etsy family as we work to better serve our buyers and sellers and drive value for our stakeholders."
What? This isn't fun. Is Etsy really this boring? 
Rachel Glaser, Etsy's CFO commented, "As we have said, our M&A strategy looks to put our capital to work in an opportunistic way - finding great businesses at the right value - and we believe Reverb is just that. Reverb shares our mission, has a nearly identical business model, a strong brand in a large, fragmented market, and healthy growth dynamics. We plan to run Reverb as a standalone business, sharing knowledge and best practices across key marketplace growth areas such as marketing, seller services, and international."
Etsy has a real CFO now? 
Part of us is dead and will never leave again.