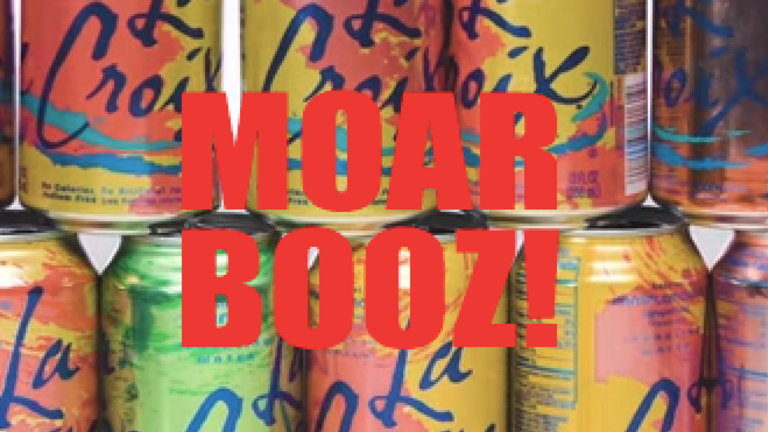 LaCroix Needs To Add Booze Or GTFO
The age of alcoholic seltzer is upon us, so National Beverage Corp. needs to evolve or die.
Move over Avocado toast. The hot trend in the food and beverage space is alcoholic seltzer water. Sales of the fruity alcoholic beverage jumped 169% in the United States in 2018 to nearly $488 million.
In a day and age when looking good for the Gram is of utmost importance, people are drawn to the drink's lighter profile. The popular 'White Claw' brand is now in the top 25-brands among malt beverages and beers with sales surpassing all craft beer brands, except for Blue Moon Belgian White. 
'White Claw,' from the makers of 'Mike's Hard Lemonade,' is by far the most popular brand in the segment. The concoction of alcohol, seltzer water and fruit has an ABV of 5% and 100 calories per 12 oz. can. It is said to have more than 50% market share and became an official sponsor of the Kentucky Derby this year. 
In a sign this fad isn't going to fade, the Brewers Association recently removed the requirement that independent craft brewers mainly produce beer. It changed the definition to include brewers making drinks such as hard ciders, THC beverages, sodas and seltzers. A poll of association members found the majority intend to produce drinks other than beer in the next 3-5 years.
While this trend has certainly been a surprise, what's more surprising is the makers of the popular LaCroix sparkling water haven't found it worthwhile to enter the market. The publicly-traded National Beverage Corp. is the fifth-largest carbonated soft drink company in the United States. Earlier this year, the company reported a drop in quarterly sales for the first time in five years with the CEO saying it wasn't due to "mismanagement nor woeful acts of God," but rather "injustice!" 
With the stock trading around levels from 2016 and down about 67% since last September, the least they could do is create LaCroIX, with 9% ABV and end the 'injustice' for shareholders.