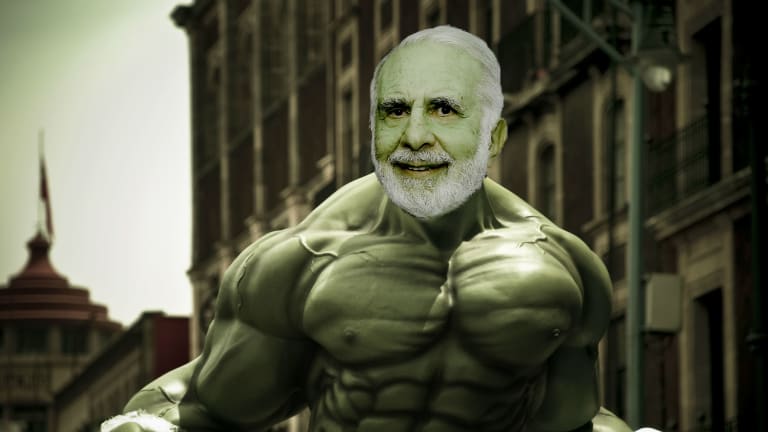 Carl Icahn Wants You! (To Fill Out All Sorts Of Paperwork To Get Revenge On The CEO Who Gave His Money To Warren Buffett)
What's an intrusive and cumbersome questionnaire between angry Occidental shareholders?
Even though after several entire seconds of searching for one we were unable to find Warren Buffett's opinion about his apparent rival for the title of best investor of all time, Carl Icahn, we have a pretty good idea of what it might be. After all, Uncle Carl is an activist hedge fund manager and Donald Trump supporter, and Warren Buffett is not a fan of those things. For the same reasons, we can assume that Icahn has similar feelings towards Buffett, and especially one of Buffett's recent deals. But if fact, even if the Occidental Petroleum-Andarko Petroleum tie-up financed by Buffett fills Icahn with rage—and it definitely does!—he's got to hand it to the elder octogenarian.
While we are told Hollub is a somewhat competent operator, she has admitted that she has limited M&A experience, yet she just orchestrated one of 2019's biggest M&A transactions and that limited experience sure does show! She also arranged the financing for the acquisition in a 90-minute meeting with Warren Buffett. I believe Hollub learned that negotiating a deal with Buffett, one of the country's canniest operators, is not the optimal way to get M&A experience. In my opinion, Buffett figuratively took her to the cleaners. Not only did he get a $10 billion preferred paying 8% but he also amazingly received a bonus of 80 million warrants worth approximately $1.2 billion simply for providing the financing. At least one large investor that I know of would have been happy to provide the financing without the warrants. The Buffett deal was like taking candy from a baby and amazingly she even thanked him publicly for it! But you can't blame Warren, if Hollub was arrogant enough to negotiate a deal with Buffett of this magnitude despite her admittedly limited experience in M&A and the Board was misguided enough to rubber stamp it, then one might say in Warren's defense that it was almost his fiduciary duty to Berkshire Hathaway to accept it.
Those are some of the nicest things Icahn has ever said about anybody, even if they are interspersed with some mean things said about somebody else. (We can't say Icahn's words about Occidental CEO Vicki Hollub are among his meanest, because, really, how would you ever even start to go about analyzing such a universe of utterances?)
Anyway, since Occidental has done everything it can to keep Icahn and other shareholders from doing anything about this deal, Icahn would like to make some lemons from lemonade. And if you happen to own a few OXY shares yourself, well, he could really use your help (emphasis very much Icahn's).
We know that, in a few months, we will own a highly-levered combined company that will be in immediate need of a strong board and good, thoughtful decision-making that prioritizes stockholder value; a board with at least four members that understand they serve on behalf of the stockholders, not the CEO; and that can and will stand up to management when necessary.
Four board members of his choosing, of course. But it isn't that simple. No, Carl's gonna need a bit more of your time than simply checking four boxes.
First, we must obtain the support of 20% of the outstanding shares to "demand" that the Board set a record date. Once we satisfy that step, we can then solicit stockholders, as of that record date, to support our agenda to remove and replace directors and fix the Company's corporate governance. Unfortunately, for you to support us, the Company requires you to complete a lengthy and intrusive questionnaire, as well as to comply with other cumbersome steps, which undermine your ability to exercise your voting franchise, these encumbrances have no apparent benefits for Occidental or its stockholders and are simply there to dissuade you from voting. Although it will take extra time and effort on your part to comply with the Company's arduous and unnecessary requirements, we implore you to do so.
Open Letter to Occidental Petroleum Shareholders [carlicahn.com]
Carl Icahn says Warren Buffett took the Occidental CEO 'to the cleaners' [CNBC]
Occidental Could Leave Sour Aftertaste for Buffett's Deal Money [WSJ]