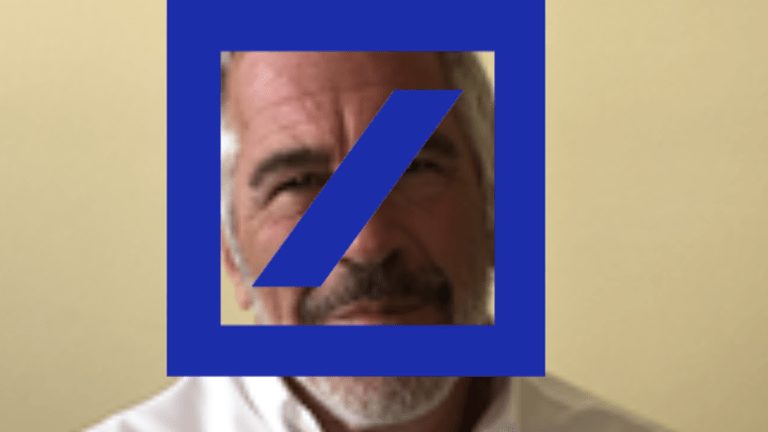 We'll Give You One Guess Which Bank Was Lending To Jeffrey Epstein
Oh, Deutsche, you beautiful monster.
Sometimes the universe just drops things in your lap and you can do nothing but cry out with ineffable joy.
Take, for instance, the fact that accused sex monster and alleged financier Jeffery Epstein has been "managing money" for decades as a semi-famous guy who only works with billionaires, yet it is almost impossible to find anybody who has ever done business with Jeffrey Epstein. Perhaps it's the media nightmare that would come from admitting it right now, but we're pretty certain that even the most craven broker in Manhattan cannot prove they ever moved paper for Jeffrey Epstein.
Literally no financial institution outside the dearly departed Bear Stearns [and how happy is Bear to be dead this week?] can be tied to the most despicable man in American money today. Or so we thought...
Let's play a very short game: If you had to pick one bank that was scruple-free and fact-averse that could be tied to doing business with a notorious sex criminal, which bank would it be?
Yeah, of course it is!
Per The Observer:
In a phone interview with Observer, Steven Hoffenberg alleged Epstein participated in a Ponzi scheme the two ran together in the 1980s, before using the ill-gotten gains to launch his investment company with the help of financial loans from Deutsche Bank.
It really is always Deutsche...
"His lead bank is Deutsche Bank, Germany, that runs the lead on his financial trust company. They run the platform in the trading of the currencies for Epstein and with Epstein. He's never disclosed to the investors that provide the money to Deutsche Bank his true legacy, that's securities fraud," said Hoffenberg. "And that makes the government available to seize all his money, literally all his money. He's not going to be able to use his money because it's got to go to a restitution fund because it's tainted money."
The only thing missing here are the words "Rosemary Vrablic."
Representatives for Deutsche Bank declined to comment. 
Yeah, because the rules of probability dictate that they don't work there anymore.
Jeffrey Epstein Borrowed 'Tainted Money' From Deutsche Bank, Says Former Mentor [Observer]