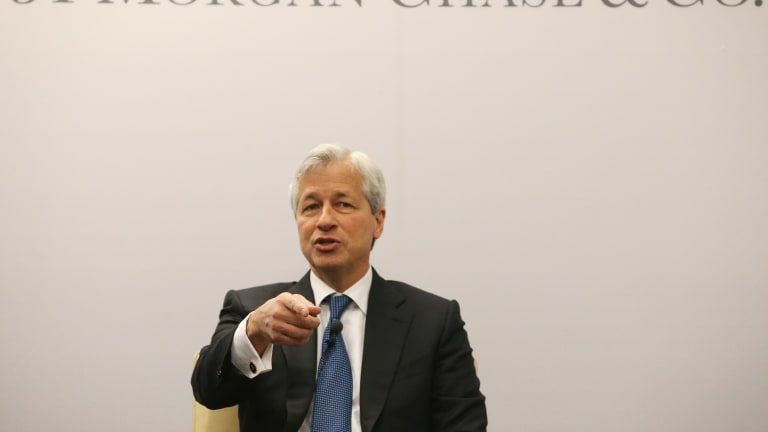 New JPMorgan ETF Robot May Not Be Cool, But It Is Cheap
J.D. & co. are betting that'll be enough to keep the twenty- and thirty-somethings rolling in to their local chase branch.
JPMorgan Chase may still love human money managers, but here's the thing: Millennials don't. And while the generation ruining America may have no choice but to deposit their crowdfunding and gig economy earnings with the bank, they have a whole hell of a lot of non-human and non-JPMorgan options for investing their money.
Now, you guys: Jamie Dimon is hip. He gets it. He understands this. And he's going to give the young people what they want, which is to say, robots deciding which JPMorgan ETFs that money will be invested with, and on the cheap.
For an annual fee of 0.35% of assets, or 35 basis points, J.P. Morgan will put users into an investment portfolio made up of the bank's exchange traded funds, or ETFs.

That fee is in line with what competitors from Morgan Stanley to Wealthfront charge for similar services, but unlike most rivals, the bank is waiving fees for the underlying investments. The ETFs J.P. Morgan will use range in cost from about 2 to 50 basis points, and users will typically save an average of roughly 15 basis points in fees through the service….
I know what you're thinking, kids: Nice try, Dad, but my generation isn't going to be coopted by you, even if you are down with Travis Kalanick. You'll never lure us into your lame branches for this thing; we're keeping our money with some hot Silicon Valley startups. But you'd be wrong. Jamie & co. are already on your home turf.
After a year of fine-tuning, which included user trials at 27 branches in Brooklyn, the New York-based bank is releasing on Wednesday a digital investing service called You Invest Portfolios.
JP Morgan is rolling out a robo-adviser with free ETFs to lure new investors [CNBC]