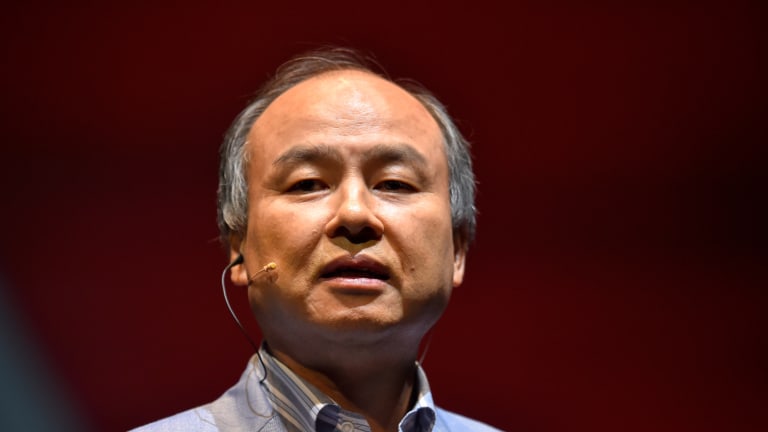 Masayoshi Son Turning To Some Different Patrons For His New Piece Of Financial Performance Art
With the Saudis taking a pass, the deKooning of money turns to Goldman Sachs for funding of his new work.
As most art critics will tell you, there is a dangerous part of almost every great commercial artist's career wherein they have settled into fame and expectance, allowing in the temptation to stop evolving creatively and just start doing what they've always done, only bigger. Sure, some get away with it, like Michelangelo moving from walls to ceilings,  but it's been an issue for some of the greats in contemporary modern art: bad boy multi-media provocateur Damien Hirst, pop sculptor/painter Jeff Koons, private equity billionaire Masayoshi Son, etc.
Japan's SoftBank Group Corp. unveiled a second technology megafund even bigger than its nearly $100 billion Vision Fund, answering skeptics who questioned whether anyone could raise so much in such a short time.

Vision Fund 2, as the company is calling it, expects to gather some $108 billion in capital from more than a dozen investors that have signed memorandums of understanding, ranging from Apple Inc. and Microsoft Corp. to Kazakhstan's sovereign-wealth fund, SoftBank said Friday. Some $38 billion of that capital will come from SoftBank itself, funded by proceeds from the first Vision Fund.
Listen, we're avowed super fans of Son's previous artistic work exploring how one can make vast sums of money almost meaningless, but we're a little disappointed to see another $100 Billion-ish vision fund piece. Sure, this has fun little hilarious details like focusing on AI [ie, hastening the android-led armageddon] and a patron list that includes the Kazakh dictatorship, and maybe Goldman Sachs, Apple, and Microsoft:
Other investors including Goldman Sachs Group Inc. are in active talks to invest, people familiar with the matter said Thursday, and the fund's size is likely to grow. The Wall Street Journal reported Wednesday that the Wall Street bank was among the investors set to back the fund, alongside Apple, Standard Chartered PLC and Microsoft, joining a roughly $40 billion investment from SoftBank itself.
Wait...Standard Chartered? That's hilarious. [And congrats to former Goldmanite Mark Schwartz who is likely even richer now.]
But this is also kind of still a retread. Unless DJ D-Sol and Tim Apple are willing to double the size of this second Vision Fund, we don't really see the artistic merit here. Even the Saudis aren't looking that thrilled to be patrons of this newest work, and everyone knows that MBS is a Masa Son stan...
While the first fund was backed largely by the sovereign-wealth funds of Saudi Arabia and the United Arab Emirates as well as SoftBank itself, the group of companies pledging money for Vision Fund 2 includes several Japanese and Taiwanese banks, insurers and pension firms—a more conservative and risk-averse type of investor.

At least two investors from the first Vision Fund—Apple and Taiwanese electronics company Foxconn Technology Group—are pledging money for the second fund, SoftBank said. Although Saudi Arabia and Abu Dhabi haven't yet signed up, they have indicated they are likely to invest again, The Wall Street Journal reported earlier.
The only saving grace of this new work is the idea that Son needs the T-Mobile/Sprint merger to close so he can pull some cash out of SoftBank's massive stake in Sprint and hold up his end of funding for a 12-figure private equity fund aimed ag hastening the automation of most human jobs on the earth.
And what is that, if not outsider art?
SoftBank Rolls Out Second Tech Megafund, With Apple Among Top Investors [WSJ]