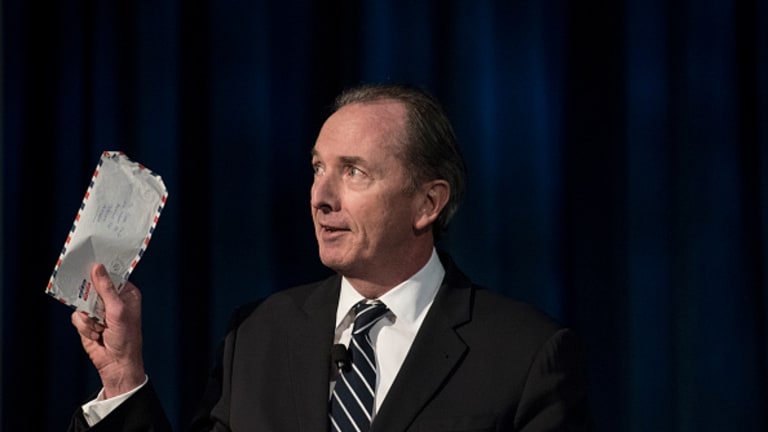 Morgan Stanley's Still No. 1 In Trading So Could You Stop Harping On How Much Closer To No. 2 It Is Now?
No, James Gorman isn't any more interested in hearing about how great retail banks are doing, either, thank you.
The problem with being on top—if there is, in fact, a problem—is that ultimately, you've nowhere to go but down. This is especially true if the thing you are on top of is Wall Street trading, and it was the second quarter of 2019, and you don't have a booming retail business to cushion the fall. This is where Morgan Stanley finds itself, with a 14% drop in stock trading revenue, contributing to declines in both revenue and profit, and, well, the House of Gorman is a little defensive about it, especially since Goldman's generally equally crummy quarter contained the silver lining of an increase in stock-trading revenue.
"We're No. 1 in the world, and we had a very strong quarter. Some of our competitors are coming from a weaker position from a year ago," Chief Financial Officer Jon Pruzan said in an interview. "It looks like the wallet's down coming off a strong first half last year, and we would expect to maintain our market share in this type of environment."
And, also, like, why must everyone focus on the one thing Gorman & co. don't have that's doing really well, rather than the one thing they have that is doing really well, huh, even if it didn't totally paper over the whole steep trading drop thing?
The wealth division, which manages about $2.5 trillion for U.S. clients, reported a 2% rise in quarterly revenue to $4.4 billion. Twenty-eight percent of that dropped to the bottom line in profit, a record for Morgan Stanley and above the range Mr. Gorman set out to crack three years ago.
Morgan Stanley Profits Hit By Wall Street Weakness [WSJ]
Morgan Stanley Posts Steepest Trading Slide on Wall Street [Bloomberg]
Morgan Stanley Would Benefit From Going Downmarket [WSJ]
Goldman Sachs earnings blow past Wall Street on strong investment banking, equity trading [CNBC]