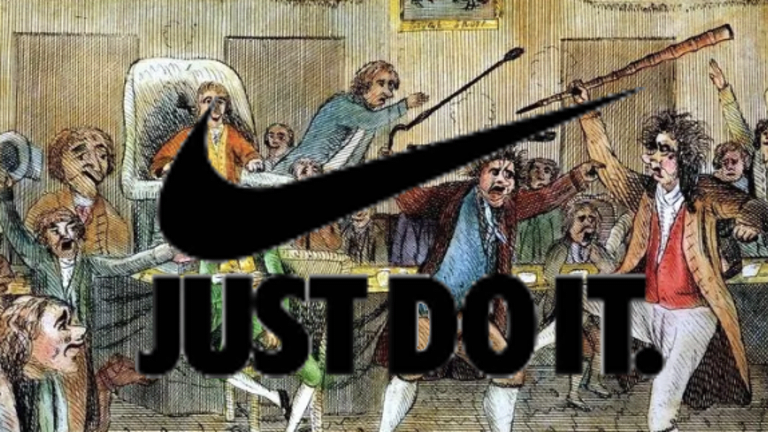 American Sneaker Pulled, Political Frenzy Ensues, Nike Wins...Again
Sparking a political shitstorm? Just Do It.
"Republicans buy sneakers, too," is the famous line attributed to Michael Jordan, whether or not he actually said it, as an explanation for why athletes of His Airness' generation were reluctant to wade into political commentary, a stance that has neither aged well nor held up amid the current climate, which this week saw Sue Bird, someday a fellow Basketball Hall of Famer with Jordan, write a Players' Tribune piece titled "So the President F*cking Hates My Girlfriend."
But it is true that Republicans buy sneakers, or at least claim to do so. On Tuesday, noted Donald Trump phone-banker and Texas senator Ted Cruz declared that he "WILL NO LONGER PURCHASE NIKE PRODUCTS," as a result of the company's decision to nix the release of a shoe with the "Betsy Ross" flag, the Air Max 1 Quick Strike Fourth of July, which also sounds like the name of a float in the president's authoritarian gala parade.
Mitch McConnell, who might really prefer a shoe with a different flag, but also assuredly has not worn a sneaker since 1971, chimed in that if Nike or anyone else put Old Glory on a pair of shoes, he'd "make the first order." As the Senate majority leader put it, "If we're in a political environment where the American flag has become controversial to Americans, I think we've got a problem." Making the side-taking even clearer, Cruz wrote, "I love America. I stand for the anthem, respect the flag & honor the men & women who fought to defend our Nation."
The United States Code, Title 4 also chimed in, saying a variety of things…
"The flag should never be used as wearing apparel…"
"The flag should never be … displayed … in such a manner as to permit it to be easily torn, soiled, or damaged in any way."
"The flag should never be used for advertising purposes in any manner whatsoever. It should not be embroidered on such articles as cushions or handkerchiefs and the like…"
"No part of the flag should ever be used as a costume or athletic uniform…"
You would think that members of the United States Senate would be at least accustomed with some of the details of the guidelines regarding the flag, and maybe they are, but that knowledge is easily put aside when there's a chance to score political points by taking a stand against unemployed quarterback Colin Kaepernick.
Nike, for its part, gets all the positive buzz of being not associated with Ted Cruz or Mitch McConnell, and they didn't even have to make a single sneaker. The swoosh stays undefeated.