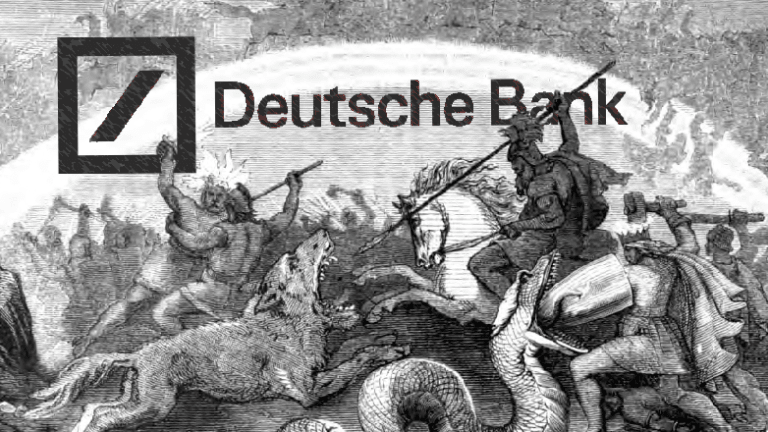 Opening Bell 7.9.19
This is hard to watch ...
Start your day with the Opening Bell powered by The Water Coolest. The Water Coolest is the preferred bathroom stall reading material of finance professionals. Sign up for the free daily newsletter.
THE FALLOUT
Thousands of bankers across the globe had a major case of the Mondays following Deutsche Bank's Sunday announcement that some 18k employees, mostly in the firm's doomed equities division, would be shown the door.
Let the pity party begin
The fat-trimming began Monday in Asia (because, you know, time zones) and the blood bath continued in London, a hub for DB's investment bank. There were reports of grown ass men crying and others heading to Balls Brothers for a pint ... and a double shot of deep introspection. 
US employees have reportedly been MIA for weeks, but that didn't stop shameless reporters (not us, surprisingly) from posting up outside of 60 Wall St. hoping for a Lehman Brothers moment.
In Frankfurt employees, who are presumably equally as dead inside, are holding on for dear life (think: Jack clinging to the door at the end of 'Titanic') as the bank has vowed to return to its roots, servicing German companies.
So what's the good news?
There is no good news, this is a Deutsche bank story …
Layoffs in banking couldn't come at a worse time. Investment banking jobs, especially those in London due in large part to Brexit, have become few and far between. So much so that sh*t-out-of-luck DB'ers have gone as far as to say they'd interview with Nomura *gasp*. The summer doldrums certainly don't help candidate's causes.
Bottom line
DB shares took a digger on Monday falling more than 6% on news that things may turn around at the lender ... just not in our lifetimes.
Deutsche Bank Ax Swings From Sydney to London to New York [Bloomberg]
IN OTHER NEWS
- Nike really likes the USA, you guys [CNBC]
- CannTrust is the DB of cannabis companies [Yahoo! Finance]
- Piper Jaffray plans to buy Sandler O'Neill [WSJ]