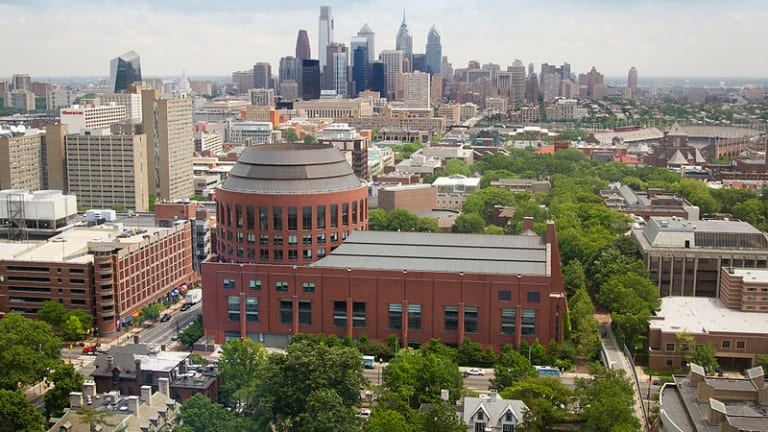 Guy Who Let Trump Into Wharton Would've Waved Pretty Much Anyone In
It did not take any super genius to get into Penn in 1966.
President Trump makes an awful lot about his Wharton degree, possibly because it's the only thing he's ever actually earned in his life. And even though his alma mater hasn't exactly loved him back, he persists in lavishing praise upon it, calling attendees (specifically himself) "super geniuses" and dubbing it "the hardest school to get into."
In my experience, the former is definitely not true, failing, as it does, to account for all of the recruited athletes, marketing majors and Trump progeny stumbling around Steiny-D. As for the second, we have numbers to back it up, and it's not true, either: Neither Penn as a whole or Wharton in particular is the hardest school to get into. They're not even the hardest schools in Philadelphia to get into; that accolade belongs to the Curtis Institute of Music, which accepts a slightly smaller percentage of applicants than Stanford, the actual hardest school in the country to get into. Penn's acceptance rate is also significantly higher than those of Harvard and Columbia, the two schools Trump's famously stupid predecessor attended. And while Wharton boasts a marginally lower admit rate than the university as a whole, it still takes a larger portion of applicants than Brown. Brown!
And that's today. Back when Trump got in, in 1966, Penn was even more a glorified commuter school that took just about anyone with a pulse and a checkbook. Don't believe me? Well, maybe you'll believe the guy who got Trump into Wharton.
At the time, Nolan said, more than half of applicants to Penn were accepted, and transfer students such as Donald Trump had an even higher acceptance rate based on their college experience…. "It was not very difficult," Nolan said of the time Trump applied in 1966, adding: "I certainly was not struck by any sense that I'm sitting before a genius. Certainly not a super genius."
And, in spite of the general lack of difficulty, Trump's family still thought he'd require a bit of extra help.
James Nolan was working in the University of Pennsylvania's admissions office in 1966 when he got a phone call from one of his closest friends, Fred Trump Jr. It was a plea to help Fred's younger brother Donald Trump get into Penn's Wharton School….

Soon, Donald Trump arrived at Penn for the interview, accompanied by his father, Fred Trump Sr., who sought to "ingratiate" himself, Nolan said…. Nolan, who spoke to The Post recently at his apartment here, said that "I'm sure" the family hoped he could help get Trump into Wharton.
There's much more in that WaPo article about Trump's lies about both Wharton and his own career at Wharton (hint: he didn't actually graduate at, or even all that near, the top of his class, and—true to form—did the bare minimum to graduate at all), but if you want to read it you'll have to make the president angry and give some money to his enemy Jeff Bezos (harder school to get into '86). That's all in the past. Also, more recently, one of Trump's fellow super-geniuses, former Wharton dean and current Philadelphia Fed chief Patrick Harker (who has not one but four degrees from Penn, for what it's worth, which, as we've mentioned, isn't much) is wondering how Trump ever passed macroeconomics.
Mr. Harker said he supported the decision to hold rates steady at last month's Fed policy meeting and projected no change in them this year. "The U.S. economy continues to be strong," he said in an interview Monday. Average hiring in recent months shows "we still have a very strong labor market."

Mr. Harker would entertain rate cuts if he believed "the economy was weakening substantially, which at this point, I do not see that," he said. "There's no immediate need to move rates in either direction at this point in my view…."

Mr. Harker said the undershoot of inflation below the Fed's 2% target is a concern, but he added, "It's one that I don't see as an imminent crisis, and I think we can give it some time to move back up to 2%."
Trump has referred to his Wharton degree as 'super genius stuff.' An admissions officer recalls it differently. [WaPo]
Philadelphia Fed's Harker Sees No Need for Interest-Rate Changes [WSJ]