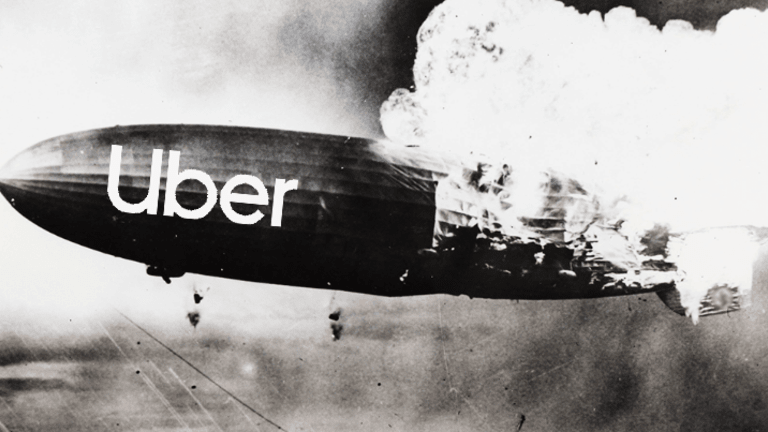 Uber Cuts Marketing Headcount By A Third, Still Has 800 People Working On Marketing
Is Uber aware of permalancers?
Uber went public on May 10 of this year. It was assumed to be losing about $2 billion a year despite revenue upwards of $11 billion. The IPO was a bit of a shitshow as investors began to worry immediately about the company's ability to cut spending.
Fast forward to yesterday.
Uber's share price has bounced back to its IPO price but things have been sluggish as spending remains a problem. Big decisions are necessary to shake the stock out of its doldrums.
Take it away, NY Times:
Uber said it laid off a third of its marketing team on Monday, or about 400 people, as the ride-hailing company tries to cut costs and streamline its operations after its initial public offering in May.

The cuts, which were also announced internally on Monday, are taking place in multiple Uber offices around the world, the company said. The marketing team had more than 1,200 people before the layoffs. Uber employs almost 25,000 people globally, nearly half of whom are based in the United States, according to recent regulatory filings.
Umm, "The marketing team had more than 1,200 people before the layoffs."? 
So, let's just step back for a second.
Uber bumblefucked its own IPO because it couldn't evince the idea that it cared about spending, yet it employed 1,200 people on the marketing team alone until yesterday?
One thousand two hundred actual people?
Uber is maybe the best-known startup in the western world with a market value over $70 billion. It's a brand name that has been adopted as a verb. It's a totemic player in the new gig economy that some have even called "The Uber Economy."
And while we get that marketing is key to Uber's model and necessary for an operation that is constantly evolving while also constantly battling crises of its own making, we have no fucking clue why it needs a full-time staff of 1,200 to market something that essentially markets itself. And, yes, we understand the vagaries of how many markets Uber is in and dedicated staff in each that might all be employed under the "marketing" umbrella and blah blah blah, but COME ON! 1,200? Executives could have at least trimmed this in the leadup to the IPO and given a sense of austerity. 
Hey, why not cut the marketing team in half and hire back most of them on a contractor basis, saving tons on health care and other basic employee benefits? Unless Uber is only comfortable doing that with the drivers that power its business model...
Uber Lays Off 400 as Profitability Doubts Linger After I.P.O. [NYT]