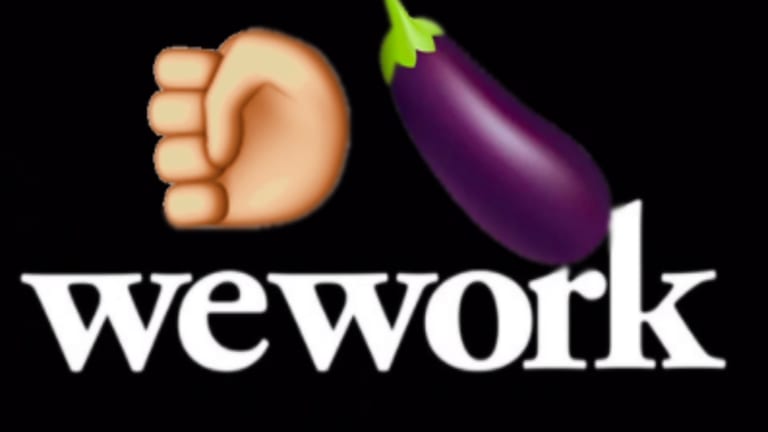 WeWork Will Raise Billions In Debt To Prove To Everyone That It's Good With Money
This IPO cannot happen soon enough, muses snarky blogger.
No company makes us feel less relevant as financial satirists than whatever WeWork is calling itself these days.
In anticipation of its very aggressive IPO, the real estate arbitrage play trussed-up as a tech unicorn that also invented the concept of self-pleasuring accounting has hit on a new plan to show everybody it doesn't have a spending problem:
WeWork Cos. has a plan to shore up confidence in its business before it goes public: offer billions of dollars in debt that would fund its growth until it can turn a profit.

The money-losing office-space manager is seeking to raise as much as $3 billion to $4 billion in coming months through a debt facility that could grow as big as $10 billion over the next several years, the people said. This debt offering would be independent of the money WeWork raises in its initial public offering and could even raise more money for the company than the IPO itself.
Yes, in order to show prospective investors that it can turn it a profit, WeWork is planning to float at least $4 billion in debt-equity so that those same people can then pretend that WeWork could conceptually turn a profit one day. And all that liquidity is now literally necessary because SoftBank backed out of the plan to give away all of its money at once and WeWork refuses to engage with the black magic of "Spending Less."
That is the plan, right?
The huge capital raise even before the IPO reflects the skepticism surrounding well-known companies like Lyft Inc. and Uber Technologies Inc. that have racked up steep losses and gone public with much fanfare but without much trading success. Both Lyft's and Uber's stock prices are below where they went public—and even further below lofty pre-IPO expectations of how high they could trade.
This is like watching an illusionist attempt to wow his audience immediately after asking them to pay a little more for their tickets...and then explicitly telling them that he needs the cash to make the next payment on his illusion machine. 
Goldman Sachs Group Inc. and JPMorgan Chase & Co. are structuring and backing the deal, potentially along with other banks, the people said. WeWork Chief Executive Adam Neumann met in recent weeks with the banks' CEOs, Jamie Dimon and David Solomon, to discuss this deal and the company's IPO, people familiar with these discussions said.
Well, look at these two fucking hipsters. Has anyone on "Adult Wall Street" managed to just yell "Cut spending!" at Neumann?
The debt deal is designed to help WeWork showcase the value of its leases and the cash flows from them, some of the people said. It is also expected to show that profitability is something within the company's control, these people said, because many of its individual properties are profitable and much of its loss-making comes from growth efforts.
So, no?
If anything, this debt round is a huge opportunity for anyone who loves a chance to grab a little bond action on a pre-IPO company that's going to have a wacky-ass cost of capital and a solid enough chance of going t̶i̶t̶s̶ cold brew taps up that buying post-IPO equity would be malpractice. 
WeWork is about to go public with almost $2 billion in annual losses and a surfeit of douche-chilly explanations as to why, and the best way it can think to show people that it knows how to handle money is to go $4 billion in debt just weeks before it goes public? We're going to need to rent a co-working space just to figure this plan out.