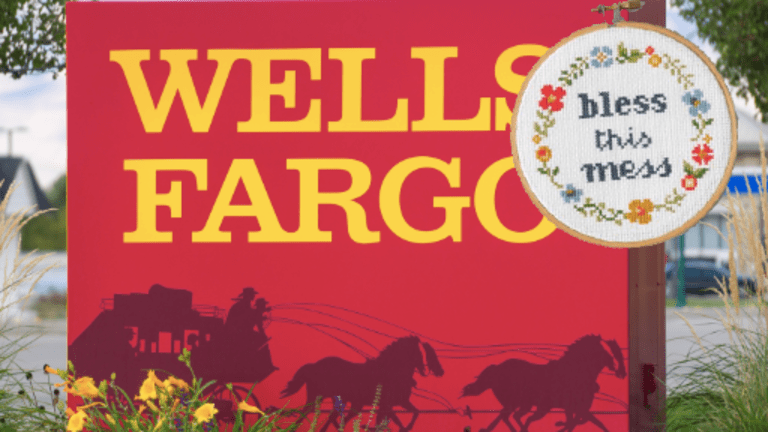 Interim Wells Fargo CEO Uses Earnings Call To Remind Everyone He's Doing A Great Job That He Hates
C Allen Parker has increased profits despite flat revenue, and he wants out very very badly.
Congrats on a solid[ish] quarter, Wells Fargo.
That felt weird to type, but The Stagecoach managed a nice little 19% run-up in profits despite a flat revenue picture. Between putting some of its absurd regulatory and legal costs, some layoffs and basic cost spending, Wells interim CEO C Allen Parker and his time managed to ameliorate the effects of lowering rates on the bank's now-even-more important net interest income, which was down by $12.1 billion for the quarter. Parker even managed to pump earnings by 35% in the bank's wealth and investment division, which at the very least means that some actual entities out there are letting Wells Fargo manage their actual money.
So, you would think that Parker was feeling himself on the earnings call, maybe even eager to fan the flames on those rumors that he's about to have the "interim" tag removed from his title. Well, maybe...over his own dead body!
Early on in the call, Parker almost went out of his way to let everyone know that he will be replaced, and hopefully soon:
"As we stated last quarter, our strategic and financial targets beyond 2019 will be established once we have a permanent CEO in place, but we're still at the point where the savings we're achieving are not reaching the bottom line and we anticipate that this could continue next year. We'll update you further on our 2020 expense -- expectations over the remainder of this year. I know you're also interested in the status of the CEO search, which is a top priority for our Board of Directors and is well under way."
And he did not waver on his lack of interest in running Wells Fargo in the long-term/ When asked by an analyst if he's going to be Wells' next rea CEO, Parker was pretty clear:
"Well, Erika, let me start by saying that the search is being conducted by the Independent Directors primarily through a search committee. And as a result, I haven't been involved in the search. There has been a lot of speculation back and forth about the candidates and the process, but as you know, the Board said at the beginning, they wouldn't be providing any sort of updates along the way as to process or candidates. Now knowing the Board members, they are focused on doing this right. They are working to identify somebody who understands the challenges that Wells Fargo is currently working through, but also understands it's extraordinary potential.

When the Board asked me to take on the interim role, I assured them that I would do the best I could in the role for as long as we -- as long as they needed me. And that's really what I've been focused on, trying to move the company forward together with the operating committee to the best of my ability. But from the very beginning, they said they were going to be seeking someone from the outside, and as far as I know they've never wavered from that."
That's as close as you'll ever hear an interim CEO come to saying: "Just someone come take my job...PLEASE!"
So go ahead, Cathy Bessant [or Ruth Porat], put C Allen out of his misery and make some herstory.