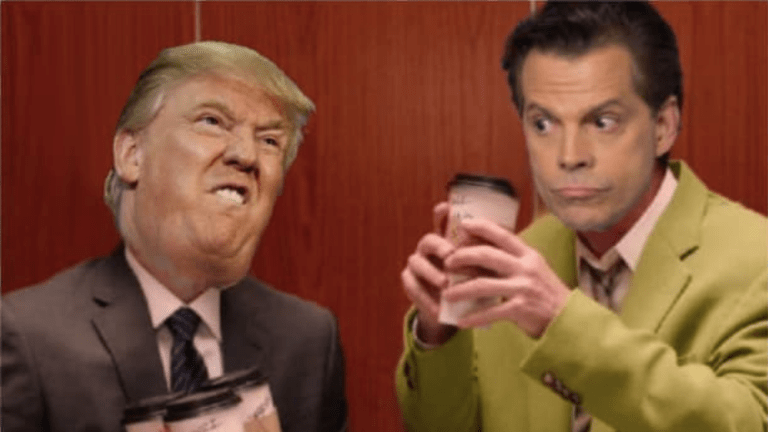 Anthony Scaramucci Is Back To Thinking That Donald Trump Probably Shouldn't Be President
The Mooch performatively pisses off the president, is forced to join The Resistance.
Donald Trump appears to be down a Mooch for 2020:
The president's on-again-off-again advisor and somehow former communications director Anthony Scaramucci has spent the last few days distancing himself even further from the increasingly unhinged leader of the free world. Trump's tweet made it clear that he had seen how the Mooch had turned...and he does not like it.
But judging from The Mooch's appearance on CNN this morning, Trump's mood is not going to improve any time soon:
Anthony Scaramucci, a former White House communications director who has frequently defended President Donald Trump on television, said Monday he no longer supports Trump's reelection bid and that the top of the 2020 Republican presidential ticket may need to be replaced.

The comments to CNN's John Berman come following a weekend in which Scaramucci and Trump traded barbs. The former hedge fund manager has increasingly criticized Trump's racist rhetoric as well as his recent visits to the scenes of mass shootings.
And this time, it looks like the president's Moochiest frenemy is truly done with The Donald:
Asked Monday if he was calling for changing the Republican ticket, Scaramucci replied, "Well, I'm calling for it to be considered, yes."

"I think you have to consider a change at the top of the ticket when someone is acting like this," said Scaramucci, who didn't name a potential replacement candidate, instead saying, "Let's watch how this unfolds."

The former aide said that although he believes Trump's policies are "very, very good for the American people," the President's "rhetoric is so charged and so divisive that we have to all just take a step back now and say, 'what are we doing, actually?'"
As we type, these two messy bitches are still feuding on Twitter:
It's fun to see Mooch getting back out there with a new attention-grabbing strategy, but it's also useful to remember that Trump and Mooch have always had something of a cattily dramatic relationship. Trump was the third GOP nominee that Scaramucci backed in 2016, and that was after the batshit meeting they had in 2015. The one that neither apparently asked for, and one that both parties came away from with very different stories to tell. 
We now look forward to watching Mooch court a litany of GOP challengers before working himself back into Trump's good graces in July of next year.
Oh, and Mooch apparently still runs a fund of funds sometimes or whatever.
Scaramucci no longer backs Trump's reelection, says change may be needed at top of ticket [CNN]