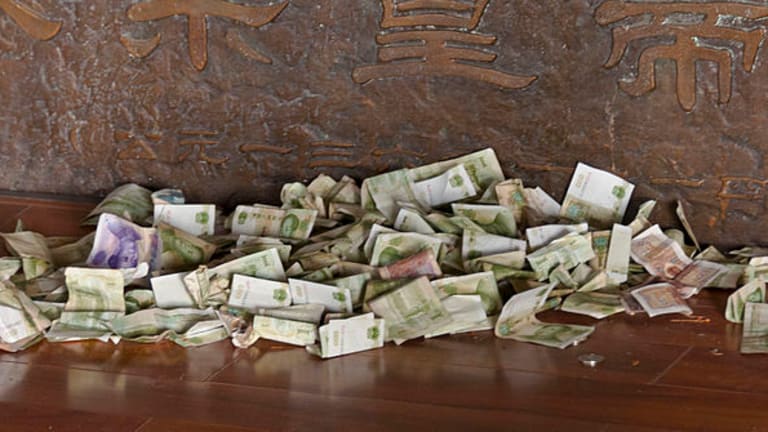 Call The Close: Yuan-a Guess How Bad It's Gonna Get?
You know things are bad when we start punning.
The Chinese are showing that they're not screwing around. The president is not taking it well, and is showing a good deal more initiative and emotion in that regard than to the latest indiscriminate slaughter on American streets—ignoring the obsequious yes men he's surrounded himself with at the same time and all but promising to start a recession next month. Hong Kong is falling apart. Jay Powell's Fedspeak lessons aren't going well. Warren Buffett is hoarding cash and people are buying bitcoin. It's bad out there today, folks.
How bad? Well, as we write, it's Dow-down-by-700-points-and-counting bad. How bad will it get? You tell us.
Get your guesses on the Dow close in by 3 p.m. EST today. Standard Price is Right rules, closest without going over wins. Winner gets a shout out for being a genius on Twitter.
Dow Falls 700 Points as Yuan Reels and Trump Jabs at China [WSJ]
China's Yuan Breaches Critical Level of 7 to the Dollar, Prompting Trump Critique [WSJ]
China Uses Currency as Weapon in Trade War, Rattling Markets [NYT]
Trump Ordered New Chinese Tariffs Over Objections of Advisers [WSJ]
Global recession will come in 9 months if Trump takes this one step, Morgan Stanley argues [MarketWatch]
Hong Kong Strike Sinks City Into Chaos, and Government Has Little Reply [NYT]
Jerome Powell's Off-the-Cuff Approach Leaves Investors on Edge [WSJ]
Warren Buffett's Berkshire Hathaway has racked up a record $122 billion in cash [BI]
Bitcoin Jumps Above $11,000 [Bloomberg]