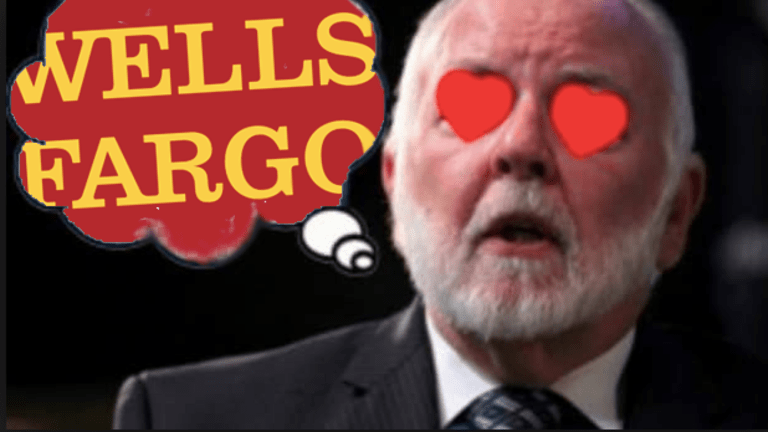 Wells Fargo Is Getting That Good Dick Bove
...analysis.
The former most trusted bank in America is still operating under a Federal Reserve asset cap, continues to look for a full-time CEO, and is just generally still trying to shake of the hangover of its mega-crisis. But there is some good news:
Wells Fargo will bounce back, according to Dick Bove, senior banking analyst at Odeon Capital.

The firm raised its rating on Wells Fargo to buy from hold, citing the bank's "enormous financial strength."

"I am convinced that the company will recover," said Bove in a note to clients on Thursday. "The restructuring is likely to be successful."
The world's greatest living analyst not named Mike Mayo is bullish on Wells Fargo now! And because Dick Bove is the undisputed king of hyperbole, we have the phrase "enormous financial strength" in the same sentence as "Wells Fargo."
Fun with words!
But even ol' Dickie B can't muster up the courage to say that Wells is a screaming BUY:
"Make no mistake, though, the bank is in a great deal of trouble," Bove said, as he emphasized that Wells Fargo's problems do not stem from "traditional areas." However, even with a sizable number of government investigations, Bove said the fines will not be a problem for country's fourth-largest bank.
So basically, this note is "Wells Fargo is not at a Deutsche Bank level of truly fucked."
"While the timing of the upside is in question, I am no longer willing to try to guess at the optimum time to get in," said Bove.
Exactly. 
Congrats to Dick and Wells on their new relationship.
Banking analyst Dick Bove upgrades Wells Fargo: 'I am convinced that the company will recover' [CNBC]