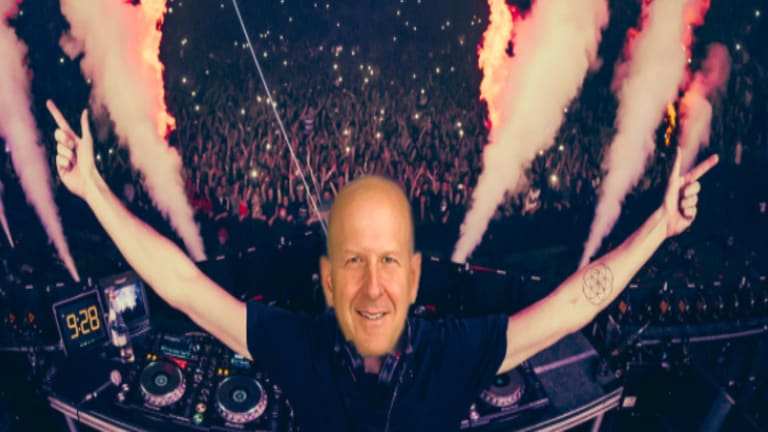 David Solomon DJ'ed In The Hamptons And Made All The Young Finance Types Horny, Reports Bloomberg
A lot of babies will be born at Lenox Hill in about 10 months bearing the middle name "D-Sol."
You can keep your #BonusSZN and put your Molly back in your Birddogs. And you can definitely stop whispering that you're not wearing anything under your Lily Pulitzer twin set because the only thing that the Murray Hill crowd needs to get freaky this summer are the sweet sexy beats of a 57-year-old investment banker DJing a beach party in The Hamptons.
David Solomon spun at the Fire Pit at Gurney's.
Awwwwwwwwww, yeah...
He was literally surrounded by fire, steps from the ocean, choosing the music.
We can almost feel the reflected heat pulsing off his power bald head. This shit is visceral, Bloomberg. 
And in his particular spot, he had the most power -- in charge of creating a vibe Saturday night for a critical 90 minutes of partying, as the clock struck midnight. He pulled it off, too.
Eat your heart out, Gay Talese.
But also run a cold shower, everyone, because THIS...GETS...SEXY:
Before he arrived in the DJ booth, the crowd was gabbing around the giant fire pit, checking one another out, as millennials and those aspiring to date them do. Once Solomon was at the turntables, dozens of people flocked in front of the booth and started dancing, heeding the advice of one sample, "Follow Me." They sang along to "Twist and Shout" and "Girls Like You."
Damn. We can't even fathom how much vanilla, tacitly transactional sex was had by mid-20-something white people across eastern Suffolk County after DJ D-Sol's liquid hot set, but we can only assume that it was...some.
It's almost impossible to think that this sensual EDM mood could ever be broken...
Watching Solomon mouth "whoop whoop" was an unforgettable moment. He sampled Justin Timberlake's "SexyBack." He played his remix of Fleetwood Mac's "Don't Stop" and "Feel Alive" featuring Katt Rockell. And there was a smidge of "Heaven" by Bryan Adams, who had played in person in Water Mill earlier in the evening at a gala for the Prostate Cancer Foundation hosted by Michael Milken.
Nope...that works. Thanks.
Goldman CEO Spins in Montauk, Biden Raises Money and Milken Gabs [Bloomberg]