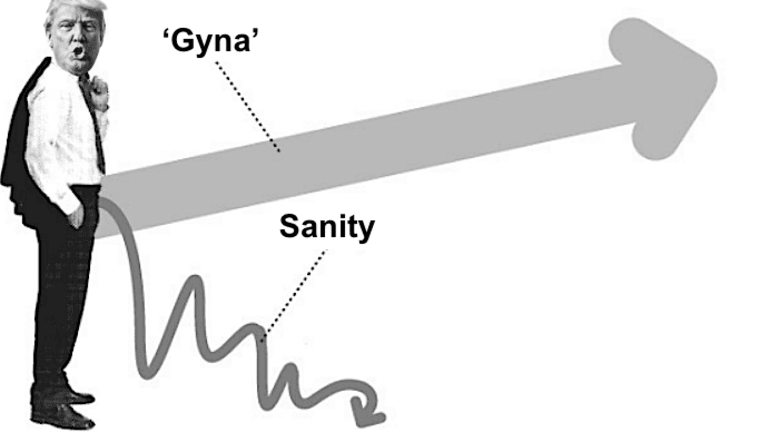 If You're Trying To Pretend To Be Excited About China Trade Deal Rumors Again, Maybe Don't Look At The Yield Curve
Is it harder to keep swallowing the algo headline bullshit with an inverted yield curve?
It's become recently obvious that something is rotten in the state of America's economy.
The last few days have made every thinking person with access to market intelligence realize that there is more bad shit in the mix these days than good shit, and the evident reality that the president doesn't know what he wants in a trade deal with China has made it harder to ignore that macro data is decaying slowly, Europe is fucked, the magic of buybacks is wearing off on American equity pricing, and Argentina's economy just went up in flames.
But thank god for algorithmic trading and its programmed inability to ignore ALL CAPS tweets made to look like Bloomberg headlines proclaiming for the umpteenth time that the trade deal we will never strike with China is almost like 93.7% done and that Trump has delayed harming himself with tariffs as a "gift" to the Chinese. And definitely keep buying this line of nonsense as long as Peter Navarro draws breath in the West Wing, making any chance of a deal literally negative zero.
U.S. stocks rallied the most in two months and Treasuries tumbled after the Trump administration de-escalated its trade war with China. Oil surged and gold tumbled.

The S&P 500 Index surged as much as 2% after trade officials granted a grace period before tariffs take effect on a broad swath of consumer goods Americans shoppers covet at the holidays. Makers and sellers of consumer electronics, toys and apparel led the advance.
Yay! You made the lines go up and the arrows green by letting machines continue to be gaslit by a news cycle that has played this same trick on you about a dozen times without ever proving it to be remotely true while fundamentals crumbled beneath your feet and layoffs picked up steam up and down Wall Street.
So, if you want to stay irrationally exuberant as if you're not a thinking person but a robot programmed to eat shit and poop out profits, definitely don't read this:
The yield on the benchmark 10-year Treasury note rose to 1.688%, just above that on the 2-year security at 1.642%. The spread between the two yields was last seen around 4.4 basis points. The yield on the 30-year Treasury bond traded slightly above its all-time low at 2.15%. 
But hey, stay peppy, because when has artificially pumping up the valuation of assets going into a cyclical recession ever bit us in the ass before?