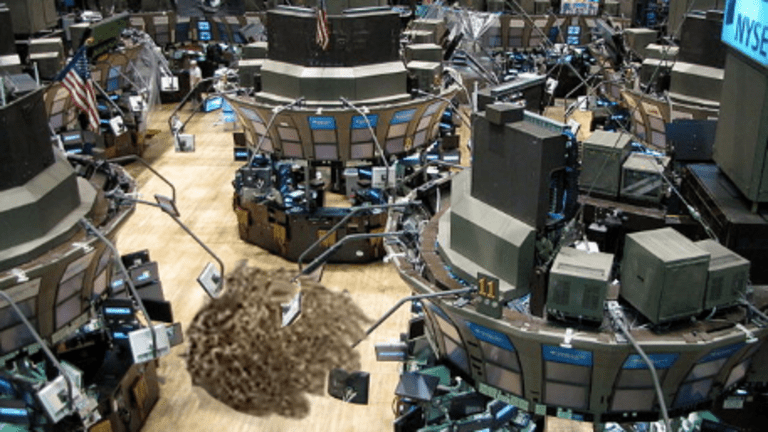 Remember Floor Traders?
Extinction comes for the most colorful men in finance.
NYSE floor traders are well on their way to join the ranks of the dodo, saber-toothed cat and dinosaurs. 
While this has been a long time coming as a result of the rise of electronic trading, the exchange itself appears to be speeding up their inevitable extinction.  The exchange is tightening the screws on brokers over the Market Access Rule, which essentially requires them to set credit limits for clients and cut them off if their clients exceed those limits. 
People familiar with the matter believe the NYSE is trying to protect its opening and closing auctions, which determine the official opening and closing prices for thousands of NYSE-listed stocks. These prices ultimately determine the value of index funds owning said stocks. The NYSE made more than half of its trading revenues last year from fees for trading at the open and close.
The frequency with which floor brokerages are being fined for violating the rule has spiked. From 2010, when the SEC adopted the rule, to 2017, only three brokerages were fined. Since just last year, there have been eight brokerages fined for such violations. The head of one brokerage said, "They really have been harassing some of these floor traders because they don't seem to want them any longer." So while it's funny to tweet pictures of computer servers digesting market news, this is the latest sign that these jokes are actually becoming the new reality. 
Since 2017, 15 NYSE floor firms have closed, merged with larger brokerages or left the floor. Now there are only about 35 active firms on the floor versus hundreds in the 1990s.
With the death of the remaining 35 firms just a matter of time, it may not be long before the iconic New York Stock Exchange building becomes just another WeWork office.
Get more Hipster Trader on Twitter @Hipster_Trader