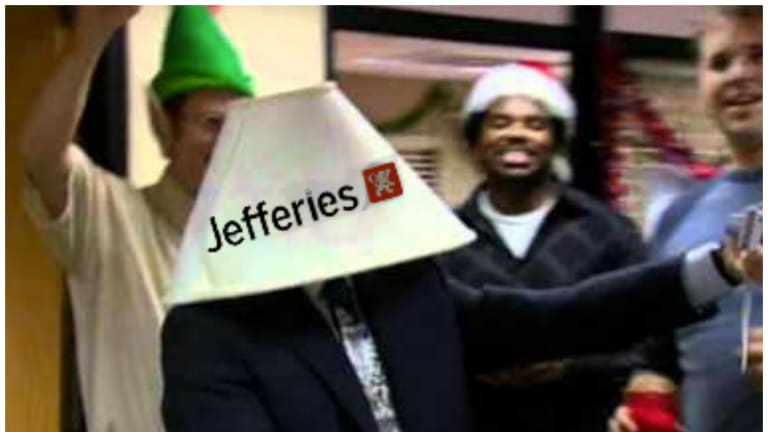 Even "Jefferies Executive Caught Up In Weird Sex Scandal Involving Someone Banging His Wife" Is Getting A Reboot
David Zervos is the new Sage Kelly, but also not.
We love nostalgia, but this whole trend of rebooting classics is getting out of hand.
Everything we used to love seems to be getting a new version for a new generation: Home Alone, The Lion King, 90210, a senior Jefferies executive facing legal issues because someone else claims to have banged his wife:
There's a personal trainer who says he was wrongly arrested, a globetrotting trip to Mykonos and Marrakech, a divorce threat spurred by Instagram photos, a Greenwich cop accused of shirking his duties and a bank strategist who refused to cut his hair until the Fed cut rates.

That's all part of a bizarre lawsuit filed against David Zervos, Jefferies Financial Group Inc.'s well-known chief market strategist. A Miami Beach-based personal trainer named Darnell Davis claims he engaged in a three-continent affair with Zervos's wife, and the couple -- rather than splitting up -- filed false charges of assault and unlawful restraint against him.
Yeah, it's not as good, but while this new versio seems to lack the truly Dadaist sexual nightmare of the Sage Kelly version, this reboot has a dark bathos that is not not compelling...
According to a federal suit filed in Connecticut:
It says Zhanna Zervos and Davis spent weeks last year traveling together across the U.S., Greece, Spain, the U.K. and Morocco, where the pair took a sunset camel ride on his birthday. The banker caught wind via social media and threatened to file for divorce, the lawsuit says.

Davis alleges that she falsely claimed he physically forced her to spend his birthday with him, and that her claims were filed with Greenwich Police Department's Ryan Carino days before they spent a weekend in Miami together. The suit accuses Carino of failing to properly investigate her claims. Davis was arrested in North Carolina in November, but charges against him were dropped, according to the complaint.
The Zervos' [Zervii?] tell Bloomberg that this is all nonsense, but, this is a reboot, so we need to see where the plot differs.
Jefferies' Zervos Sued by Wife's Trainer Over Tryst Gone Bad [Bloomberg]