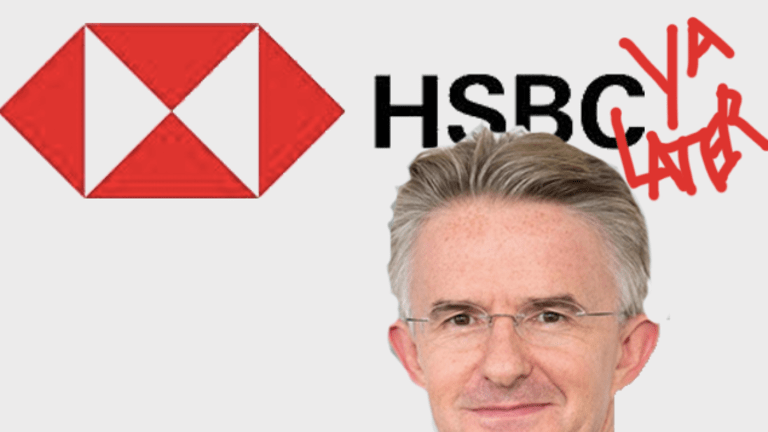 HSBC Decides That It Won't Survive 19 Months Of John Flint's Leadership
The board is saying "HSBC ya later!" to its still-brand-new CEO.
The average tenure of a bank CEO is apparently like eight years. 
That means for every Jamie Dimon who lasts a fistful of decades, there are a couple of Tim Sloans who only hang on for like 2.5 years or so. But those latter dudes are statistically anomalous losers because you should at least hit the four-year mark. Anything less is really embarrassing...
John Flint's tenure running HSBC Holdings Plc has come to an abrupt end, with the bank announcing early Monday in Asia that the chief executive officer was stepping down.

The board believed a change was needed to help the bank, which has seen its Hong Kong-listed shares fall about 15% in the past year, meet the challenges it faces in an increasingly complex environment, Chairman Mark Tucker said in a statement. 
Umm, John Flint is not a name with which we are particularly familiar. What do we know about him again? He was like a boring lifer who was supposed to get things in order, right? What else can we remember?...
Flint will be replaced on an interim basis by Noel Quinn, head of global commercial banking. The lender, which also released its latest quarterly results several hours earlier than scheduled, didn't give a reason for the decision. Flint, 51, joined HSBC in 1989 and took over as CEO in February 2018.
He's only been in charge for 18 months? Ouch.
Some HSBC executives in Asia expressed surprise at the move, saying there had been no indication that a change was afoot. They asked not to be identified as they aren't authorized to comment on the issue.
Well, yeah, it's pretty surprising that they took Flint out this quickly. Were there any clues at all?
Oh, so "Shocking" is a bit strong.
What's next for good old HSBC?
The CEO hiring process would take six-to-12 months, and consider both internal and external candidates, [Tucker] said.
Good luck with this, right, Wells Fargo?
HSBC CEO Flint Exits in Surprise Move After Just 18 Months [Bloomberg]