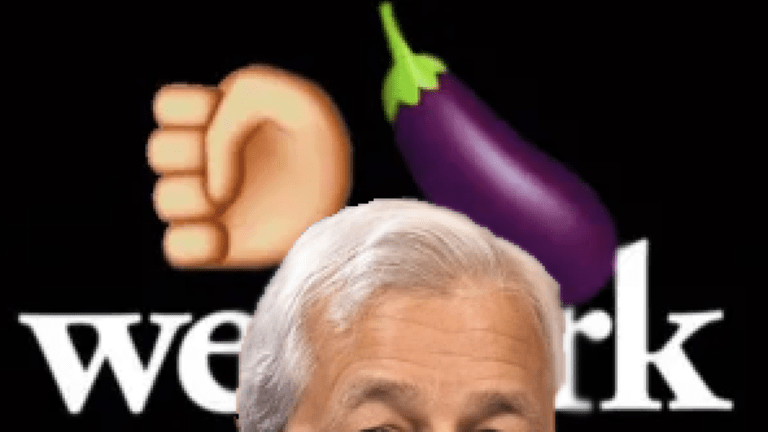 JPMorgan Has Put In The Hours Needed To Get Hammered On The WeWork IPO
Jamie Dimon seduced Adam Neumann in what we assume was a "Dangerous Liaisons" wager scenario with Lloyd Blankfein.
WeWork is somehow still set to go public next month despite being WeWork, and that's staggeringly funny by itself. But according to a fun piece from Bloomberg, it appears that some pretty serious Wall Street types are drinking WeWork's K̶o̶o̶l̶-̶A̶i̶d̶ Kombucha. Chiefly among them, once-promising political figure: JPMorgan CEO Jamie Dimon:
As WeWork prepares for an initial public offering next month, Dimon's bank is helping Neumann's company line up its most ambitious fundraising yet: a $6 billion package of debt financing that depends upon the IPO raising at least $3 billion. Behind the scenes, JPMorgan has indicated it will contribute $800 million of the loans, more than any other lender. The bank also is expected to take the coveted first -- or lead left -- position in WeWork's syndicate for the IPO, giving the firm bragging rights and a hefty chunk of the fees.
JPMorgan has apparently been working its's octagonal ass off to be the first bank in line to be disappointed by the WeWork IPO. That's...interesting. But in Jamie & Co.'s defense, they have clearly figured out how to best appeal to WeWork's interests:
JPMorgan's ties to WeWork CEO Neumann and his company are varied. The bank led an offering earlier this year of commercial mortgages including one for a building where WeWork is completing an 11-floor build-out of a boutique office within walking distance of two of Neumann's Manhattan apartments. JPMorgan also issued him mortgages so he could buy one of those homes and one in Westchester County, according to public filings. And a savings plan for JPMorgan's own employees has put roughly $800,000 into WeWork's junk-rated debt.
The thin, extremely blurred line between the company WeWork and the finances of its co-founder and CEO is a very rich vein to plumb, and Jamie hath apparently gotten all up in there. However, in what is the best part of this Bloomberg piece --and maybe a top-five anecdote for 2019 so far-- Jamie was not the first bold-face CEO to try to seduce Neumann directly:
Goldman's efforts were publicly visible in December, when the firm's former CEO, Lloyd Blankfein, palled around with the entrepreneur at a charity event. Taking the podium, Neumann told an audience packed with Wall Street leaders about getting to know Blankfein, marveling at his ability to hold court on any topic.

"We have been having so much fun," Neumann said, gesturing to the banker. One time, over dinner, "Lloyd said, 'Ask me anything,' and I said, 'Spanish Inquisition -- go!' And you said so many names and so many things I didn't even know existed. It was amazing."
We're not sure what gives us more joy from this little tale; Neumann's spoiled little princeling routine of making Lloyd dance for him, or Blankfein's decision to just make up a bunch of bullshit about the Spanish Inquisition right there on the spot, knowing full well that Neumann didn't know anything about the Spanish Inquisition but would never admit to it.
Nevertheless, it encapsulates perfectly why any bank tying itself to the rocket that is the WeWork IPO is destined to realize that they are really just handcuffed to a stick of millennial bullshit dynamite.
But congrats to Jamie on the big deal...we hope you build a motherfucker of a greenshoe.
JPMorgan's WeWork IPO Pursuit Was Many Years and Loans in the Making [Bloomberg]