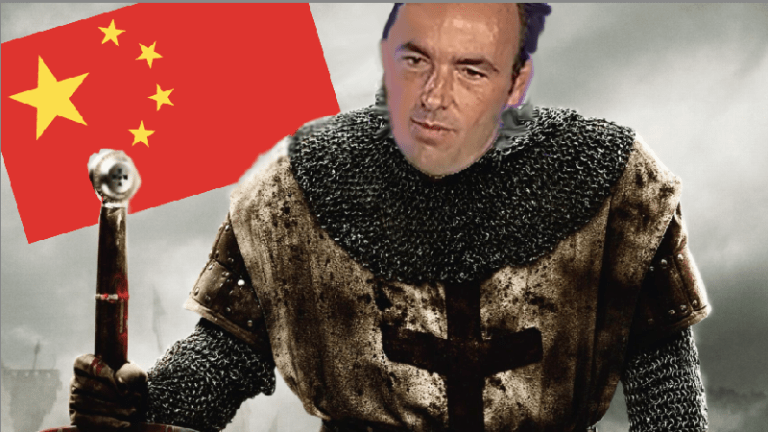 Kyle Bass Got That Elizabeth Warren Thirst Ferreal
The anti-China crusader sees a true ally in the most-hated woman on Wall Street.
Say what you will about Kyle Bass, but don't ever say that the man is not consistent.
In an interview with CNN Business, the most dapper hedge fund manager in Texas made a surprising pick for who he's backing to take the White House in 2020:
Hedge fund manager Kyle Bass is no fan of Elizabeth Warren's populist platform. He calls her proposed wealth tax unconstitutional. Still, he's hoping she is the Democrats' presidential nominee and wins the White House in 2020.
Sure, Warren hate hedge funds for merely existing, and the men who manage them even more, but she would be very tough on China, and nothing gets Kyle Bass more politically aroused than an American politician ready to go hard at Beijing:
Bass, founder of Hayman Capital Management, told CNN Business in an interview this week that he would "immediately" vote for Warren because of her tough stance on China's human rights and trade record.

"Warren would be a problem for China," said Bass, who is a longtime vocal critic of China.
We assume that Kyle's heart [and hair] was set aflutter by Warren's trade plan, a concise set of ideas that Bass must view in stark contrast with whatever the fuck President Trump is letting Peter Navarro tell him he thinks today: 
"She's the most competent candidate that has the best ability to develop practices for US national security over time," Bass said.

Although he supports Trump's trade agenda, Bass suggested he's not a fan of the way the president acts. "We all would like to see real decorum and statesmanship in the office of the presidency," he said. 
So, it's a marriage made in heaven between a macro fund manager and one of the most progressive members of Congress:
The Democrat has proposed a new tax on Americans with assets of $50 million or more as part of a plan to reverse wealth inequality.

"I have a real problem with the net worth tax," Bass said, adding that he believes it's "unconstitutional."
Oh, right...that.
Meet the hedge fund manager rooting for Elizabeth Warren in 2020 [CNN Business]