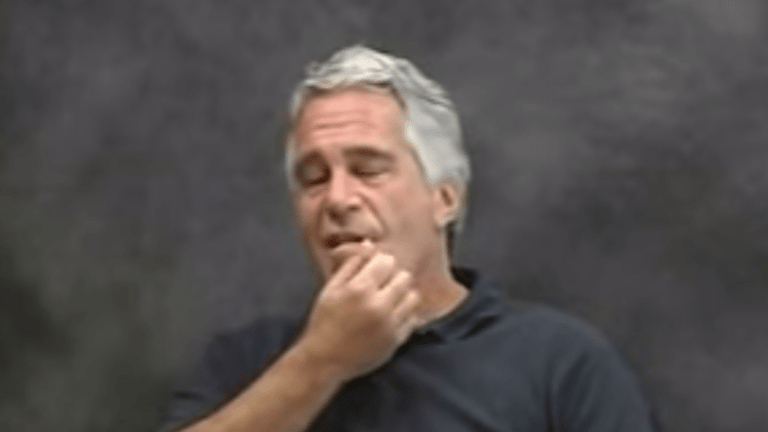 Second Major Sex Crime Charge Against Jeffrey Epstein Jogs Lex Wexner's Memory About Being Embezzled From That One Time
Now that you mention it, that federal sex trafficking charge is reminiscent of Les catching Epstein stealing "vast sums" of money from him back in 2007.
After convicted sex offender and alleged financier Jeffrey Epstein was arrested on federal sex trafficking charges a few weeks back, we started to get some reminders of all the people who had given him their money over the years.
Being named as an associate of Epstein's while he is being unmasked [again] as an irredeemable sex criminal has put some very comfortable people in some very uncomfortable positions. Take Leon Black, for instance, who seemed forced to let Apollo Global know that his financial dealings were totally personal and involved only the money that Leon made from Apollo as opposed to his money that was in Apollo...which must have been comforting.
But the name that has been most associated with Epstein forever was Lex Wexner, the billionaire founder of L Brands who seems to have essentially created Epstein's fortune by giving him part of his own. The most everyone looks into Epstein's wealth, it becomes harder and harder to see where Wexner's money ends and Epstein's begins, and all we heard from Wexner was silence.
In a letter from Wexner to members of his charitable foundation obtained by CNBC, he explains what went down between him and Epstein, and it's a pretty tremendous document that invites a metric tonnage of epistolary analysis:
In recent weeks, there has been considerable media attention on my past connection to Jeffrey Epstein. To be clear, I never would have imagined that a person I employed more than a decade ago could have caused so much pain. I condemn his abhorrent behavior in the strongest possible terms and am sickened by the revelations I have read over the past weeks. I sincerely value your trust, and that is why it is important you hear details and context from me directly.
This is what we in the biz call "a lede":
I first met Mr. Epstein in the mid-1980s, through friends who vouched for and recommended him as a knowledgeable financial professional. Mr. Epstein represented that he had various well-known and respected individuals both as his financial clients and in his inner circle. Based on positive reports from several friends, and on my initial dealings with him, I believed I could trust him.
Okay, this is a description of how most wealthy people select money managers...
Eventually, he took over managing my personal finances.He was given power of attorney as is common in that context, and he had wide latitude to act on my behalf with respect to my personal finances while I focused on building my company and undertaking philanthropic efforts.
"In that context" is doing some real work here. Giving limited power of attorney to your money manager to move a nice chunk of change around without having to clear every decision with you is not an uncommon practice, but the "wide latitude" part is not common in almost any context. And if Wexner is implying that he gave wide latitude over all of his personal finances to one money manager via a non-limited power of attorney agreement, that's...pretty uncommon to us.
In the early 1990s Mr. Epstein became a trustee of The Wexner Foundation, but he had no executive responsibilities in the running of the Foundation. He did not work directly with Foundation staff, and he did not engage with leadership initiatives in any way.
So, in other words: "Many of you also remember when I gave Jeffrey a no-show title gig at the foundation? Cool. Let's move on."
As the allegations against Mr. Epstein in Florida were emerging, he vehemently denied them. But by early fall 2007, it was agreed that he should step back from the management of our personal finances. In that process, we discovered that he had misappropriated vast sums of money from me and my family. This was, frankly, a tremendous shock, even though it clearly pales in comparison to the unthinkable allegations against him now.
What a terrible double whammy for poor Les. First, he finds out that the guy he trusted with all his money [and to whom he gave a mansion, a fortune, and shared a massive luxury yacht with] had been systematically raping dozens of underage girls, and then he finds out that he was also a victim. Can you not see hard this was on Les, Wexner Foundation members?
This man is in pain! So much pain that it took him Epstein being arrested and convicted of soliciting underage prostitutes, almost a decade of shame, a federal sex trafficking charge and Epstein's arrest, and then a month of waiting to stand up and share the agonizing tale of being cheated out of like $150 million by someone he trusted...
With his credibility and our trust in him destroyed, we immediately severed ties with him. We were able to recover some of the funds. The widely reported payments Mr. Epstein made to the charitable fund represented a portion of the returned monies. All of that money — every dollar of it — was originally Wexner family money.
Sure, Les got most of it back, but like Epstein's other victims, the psychological scars are the last to heal...
I am embarrassed that, like so many others, I was deceived by Mr. Epstein. I know now that my trust in him was grossly misplaced and I deeply regret having ever crossed his path.

As the story has unfolded further, and the extent of the pain caused by Mr. Epstein continues to grow, I have spent time reflecting and searching for answers as to how this could have happened. My heart goes out to each person who has suffered unthinkable pain and I pray for their healing.
Yeah, but that was a lot of time reflecting. Wexner has been named in like 80% of the stories about Epstein for more than a month now, meaning that he's been letting his name become virally synonymous with "Sex trafficking" "Rape" and "Sexual assault of 13-year-old girl" for weeks while keeping quiet about his truth that he cut ties in 2007 after Epstein embezzled from him? That's...some masochistic reflecting.
Here at Dealbreaker, we're something of a connoisseur when it comes to billionaire mea culpas about being involved in very dark shit, and we have to give Les Wexner a grade of C+ on this one. It's a vague and quasi-tone deaf explanation of an objectively strange private business relationship, and it's coming out more than a decade after his embezzler was first convicted of a sex crime. Essentially, this letter feels like a case of almost too little and way too late.
Wexner will not be the last wealthy old man to write one of these letters, but the tone and timing of his should be a lesson to the next few that it's probably better to write one faster and clearer than his.