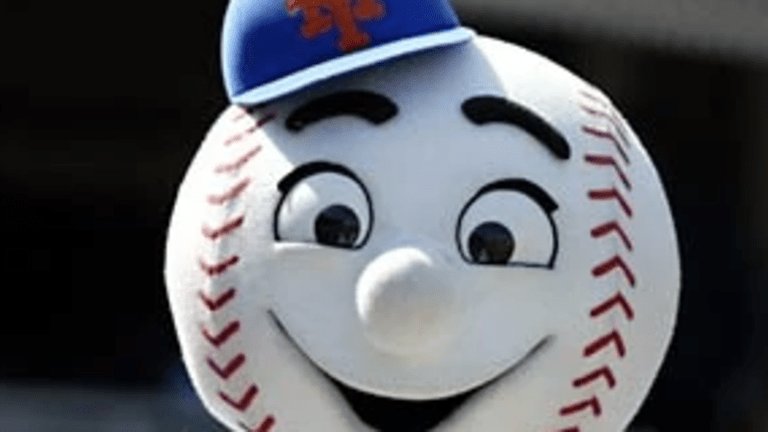 The Mets Proved That Being The Mets Is Not The Literal Worst
Mr. Met owes Toronto an Edible Arrangement.
Ross Atkins, the general manager of the Blue Jays, has a difficult job as he tries to rebuild a team that made back-to-back ALCS appearances in 2015 and 2016, Toronto's only playoff appearances in the last quarter-century. When you're in a division with the Red Sox and Yankees, life is a challenge, and with the last contention window having closed, setting up for the next one is an uncomfortable task.
That doesn't mean you get to say the quiet part out loud, which Atkins did after the trade deadline on Wednesday. After shipping out several experienced players, Atkins proclaimed his work a success because the Blue Jays "turned 14 years of control into 42 years of control."
Having once defended Josh Donaldson's trade to the Blue Jays from the Oakland A's on similar grounds, there really is something to this for a baseball team that won't be contending in the near future. Trading for prospects can be an exercise in finding strength in numbers, because baseball talent evaluation is so tricky and "can't miss" prospects often do, indeed, miss.
But then – and this should be day-one stuff for someone tasked with speaking publicly on behalf of a business – you talk about why your moves are good for the consumer, not good for the business. "We're thrilled with our ability to exploit more workers and take advantage of a system in which inexperienced labor is underpaid!" is not the rallying cry you think it is. Try something like "We're very excited about the players we've added to our organization, who should help to build a winning culture here for many years to come." Throw in some plaudits for the players who were doing their best to keep the last era of good times going but ultimately couldn't, and you're good to go, instead of ready to wear.
A good rule of thumb for this kind of thing – for any kind of thing, let's be real – is "don't be worse than the Mets," and the Mets not only took advantage of Atkins' quest for years of control when they acquired Marcus Stroman for a 24-year-old with 19 career starts above A-ball and a teenager who's been giving up a hit per inning in the South Atlantic League this season (both are highly-regarded prospects, but this is why baseball prospects should always be taken with a grain of salt, especially when teams are willing to trade them), they spun the PR perfectly.
On Thursday, rookie general manager Brodie Van Wagenen, who seems to have the job mostly because he knows how to say the right things to the right people, said the right things to the right people in one of those Notes-screenshot tweets that usually are used for apologies.
Some select lines:
"We wanted to improve the team for the rest of this year and as we head to 2020."
"At the end of the day we weren't going to move key pieces on our club unless we felt we would be better positioned moving forward."
"We are now the underdogs and chasing the pack. … We do believe we are capable of playing this type of baseball moving forward."
"We're excited for the rest of this year and to keep this momentum going. Let's Go Mets!"
Now, there's an obvious difference between being trade deadline buyers against everyone's better judgment, as the Mets were, and selling off everything but the copper wiring in the stadium, as the Blue Jays did. But there was a challenge for the Mets in justifying what they did, which was to ship out players who wouldn't contribute until after Van Wagenen's inevitable dismissal and hope to catch lightning in a bottle either this year (extremely unlikely) or next (very unlikely) and make a playoff run. They succeeded in making you believe, at least a little bit, that maybe, just maybe, they'll be able to do it. That's extremely on brand for the Mets, but it's a brand that works pretty well considering they haven't drawn fewer than two million fans in a season since 1997. The Blue Jays this year are on track for their ninth sub-two million attendance season in the same span, squandering all of the goodwill that led to back-to-back seasons of over three million fans in 2016 and 2017.
Neither the Mets nor the Blue Jays will be a championship team anytime soon. If you're a pro sports team in that situation, you have to figure out what you're going to sell the fans on. The Mets have chosen being the Mets in all the most Mets ways they can possibly be, which has an entertaining and somewhat sick appeal. The Blue Jays have chosen corporate optimization via labor agreement inefficiency. Canada's a different place, but that's not going to play anywhere.