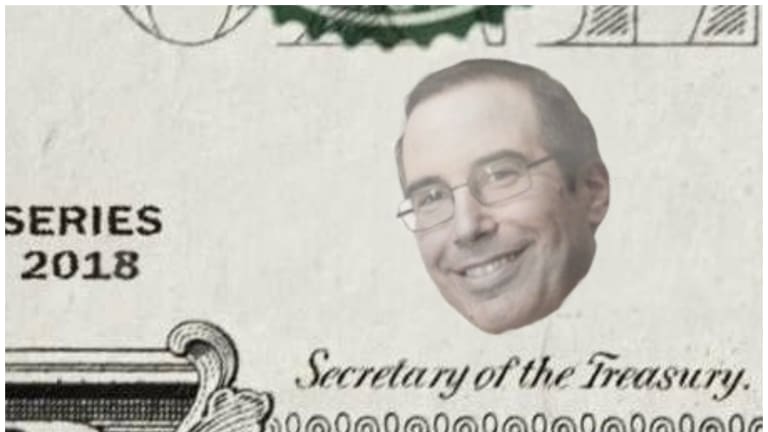 Guy Whining About Currency Manipulation Won't Manipulate His Own
Enjoy this rare bit of consistency emanating from Pennsylvania Avenue.
Because he is oh-so-good at hiring people, President Trump—who'd like to see the dollar valued somewhere in between the Venezuelan bolivar and Argentine peso—has selected as his top two economic advisers a pair of strong believers in a strong dollar, one on account of lifelong belief, the other probably because his name's on them now. And while Trump has managed to browbeat pretty much everyone else around him, as well as those carrying an "R" next to their name on Capitol Hill, into doing whatever unspeakable or unspeakably stupid thing he wants, Larry Kudlow and Steve Mnuchin's faith in the greenback hasn't been shaken, even now that the latter's boss finally forced him to do something else he didn't want to do, label China a currency manipulator, he's not going to get into that game himself, as a matter of principle.
The Treasury Department has "no intention of intervention at this time. Situations could change in the future but right now we are not contemplating an intervention," Mnuchin said Wednesday in an interview with Bloomberg News in Washington.
And if by "we" he means himself and Kudlow, I'm sure that's true. Now, bonds not to be paid until long after they're both dead? That's another story entirely.
"If the conditions are right, then I would anticipate we'll take advantage of long-term borrowing and execute on that," Mnuchin said Wednesday in a Bloomberg interview in Washington…. For the Trump administration, issuing extremely long-term debt would limit the cost to taxpayers of plugging a budget deficit that's headed to $1 trillion annually.
Mnuchin Says U.S. Doesn't Intend to Intervene on Dollar for Now [Bloomberg]
Mnuchin Says Ultra-Long Bonds Under 'Very Serious Consideration' [Bloomberg]