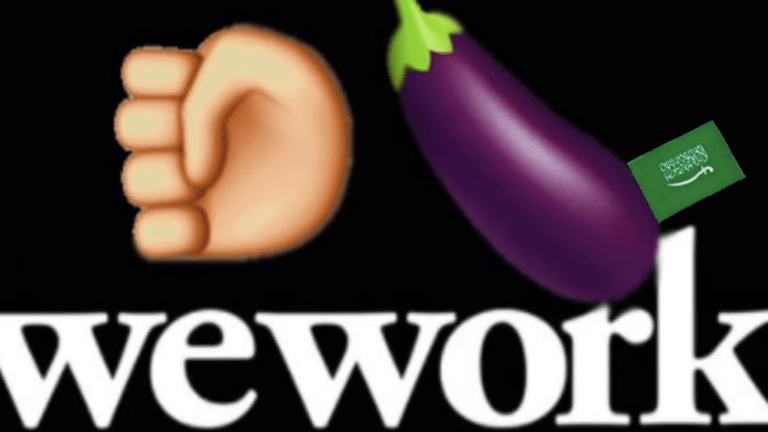 Opening Bell 8.15.19
Make community-adjusted EBITDA great again!
Start your day with the Opening Bell powered by The Water Coolest. The Water Coolest is the preferred bathroom stall reading material of finance professionals. Sign up for the free daily newsletter.
RISK AND REWARD
The We Company, the parent company of WeWork, released filings for its IPO, which revealed the company has been growing rapidly. But there's good news and there's bad news …
The good news is that We Co. quadrupled its revenue from 2016 to 2018 to $1.82B. The bad news? As revenue grew, so did losses. Over that same four year span, the firm lost more than, wait for it … $1.61B. In 2019? We doubled revenue to more than $1.535B, while losses sunk to $689.7M, not counting a one-time gain of $486.2 million.
On Wednesday, the preferred workspace of kombucha loving startup founders announced that it has secured roughly $6B of debt from the likes JPMorgan and Goldman Sachs. Debt that it will need to maintain its precipitous pace. The loans would close upon an IPO, and the banks involved are pushing WeWork to raise between $3B and $4B via the public offering, the high end of its range.
The company, which filed to go private in December 2018, is aiming for a go-live date of September. You know, before the markets completely collapse and we are all forced to live in a post-apocalyptic WeDystopia.
Neumann! 
More worrisome than the company's massive losses? The laundry list of "risks" associated with the company, many of which are tied to the relationship the company has with CEO Adam Neumann. A relationship in which Neumann has purchased at least four properties and leased them back to the company.
Not to mention the massive loans Neumann and other execs have taken out from the company with, how do you say, "favorable" terms. In fact, the CEO voted "most punchable" in high school has taken on almost $1 billion in personal loans and credit from WeWork and its lenders. 
The filing's risks also include a pair of interviews Neumann held with Axios and Business Insider back in May. Interviews which may or may not violate SEC's IPO quiet period rules …
According to the SEC, the quiet period "extends from the time a company files a registration statement with the SEC until SEC staff declare the registration statement 'effective.'" If it's found that Neumann's interviews violated the quiet period, We Co. would be required to buy back all shares sold in the IPO at the purchase price for one year, plus statutory interest.
Oh, and in case you were wondering, "community adjusted EBITDA," a made-up profitability metric that was used widely in its the company's bond prospectus was nowhere to be found in its IPO filing. 
WeWork IPO Filing Reveals Huge Revenue and Losses  [WSJ]
IN OTHER NEWS
- The yield curve inverted and the President tweeted in all caps at the Fed Chair ... what a time to be alive [Bloomberg]
- Overstock CEO Patrick Byrne forgot to take his meds again [Bloomberg]