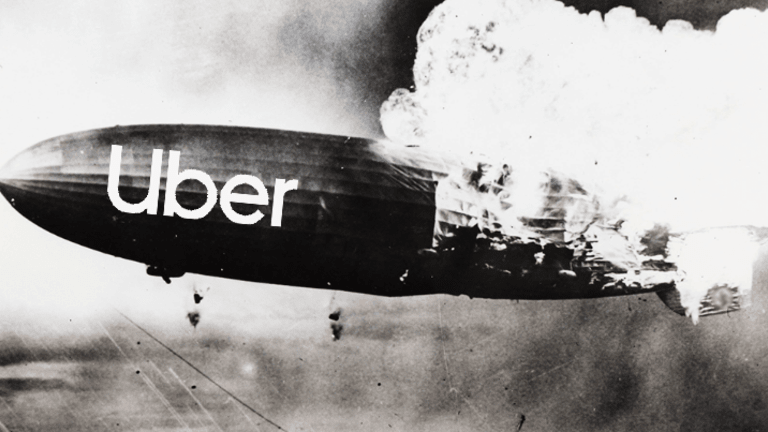 Opening Bell 8.9.19
Profit?! We don't need no stinkin' profit ...
Start your day with the Opening Bell powered by The Water Coolest. The Water Coolest is the preferred bathroom stall reading material of finance professionals. Sign up for the free daily newsletter.
RIDE OR DIE
Somewhere, backstroking in a swimming pool filled with gold coins Travis Kalanick, the founder and former CEO of Uber has a smile on his face. Why? Because Uber's earnings were a bigger disappointment than you are to your parents.
Uber's results revealed top and bottom-line misses. And not misses of the "slight" variety. We're talking a loss per share of $4.72 vs. $3.12 expected and a top-line miss of roughly $200M ($3.17B vs. $3.36B).
As you might expect shares fell after earnings dropped. The stock fell more than 12% before recovering to settle at -4%.
For what it's worth ...
Spoiler: this is where news outlets try to make excuses for Uber.
CEO Dara K. (because have you ever tried to spell his last name?) was quick to point out that a majority of Uber's $5.24B loss is attributable to stock-based comp. Still, the $1.3B loss excluding the pay is 30% greater than last quarter.
The company has spent boatloads of cash on competing with its younger, slightly more business savvy cousin, Lyft. Both struggle to retain riders and drivers.
And Uber's side hustles like Uber Eats certainly didn't do the company any favors. Eats generated $3.39B in gross bookings vs. $3.51B expected.
The good news?
Well, Uber's self-driving cars didn't kill anyone. So there's that. But Dara is positive that in 2020 or 2021 "you'll see the losses come down." Heck, he's even talking "break even." Dream big, Dara.
Uber shares slide after reporting disappointing quarterly results [CNBC]
IN OTHER NEWS
- Heinz turned in its homework late, again ... finally releasing its earnings, and revealing a $1.22B writedown [WSJ]
- Facebook is allegedly offering millions to major news provides for rights to its content so it can steal your information that way too [WSJ]
- Netflix is betting that your little cousin who asks "does that thing have games?" is jonesing for interactive TV [Bloomberg]