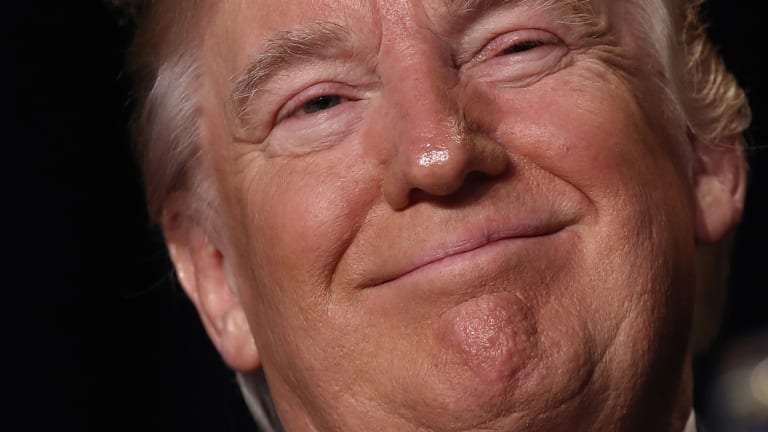 Donald Trump Giving Americans Slightly Lower Prices, Humiliating Trade War Defeat For Christmas
Even Kyle Bass knows it's over.
Last year, Wilbur Ross woke up long enough to pledge that his boss wouldn't call off his misbegotten and ill-conceived trade war with China no matter how much the stock market fell. And for once, we must credit the Commerce Secretary for his honesty. It is not, apparently, the continuing stock-market rout that has produced President Trump's most significant and humiliating retreat in that tariff fight, but the realization that, like the Mexican border wall, those tariffs weren't going to be paid for by his adversary, but instead by Americans on line at their local Walmarts this coming Black Friday.
"Nobody wants to take any chance of disrupting the Christmas season," Ross said, adding that "this was not a quid pro quo" in trade negotiations with Beijing…. Ross told "Squawk Box" that the planned tariffs had been in the works a while before the stock market started to decline from July's all-time highs.
"We're doing this for the Christmas season," Trump told reporters on an airport tarmac around noon Tuesday. "Just in case some of the tariffs would have an impact on U.S. customers."

"So far they've had virtually none," the president added. "But just in case they might have an impact on people, what we've done is we've delayed it, so that they won't be relevant to the Christmas shopping season."
In addition to making the president a liar for the essentially uncountably umpteenth time, this also begs the question as to why he'd want to begin imposing that possible pain at the beginning of an election year the Chinese show every indication of waiting out, but that would give him and his administration far too much credit on too many counts. Certainly, the biggest China trade hawk in the business is treating the back-down for what it is, which is to say the end of his holy crusade against the Middle Kingdom.
Hedge fund manager and Hayman Capital Management founder Kyle Bass said based on the tariff de-escalation, "it does look like President Trump has blinked." While Trump has been vocal in the tariff fight, Bass said "every time it makes the stock market go down a few hundred points" the president "backs away."

"It looks like he doesn't want the price of iPhones going up into Christmas," Bass said on CNBC's "Squawk Alley " Tuesday. "The Chinese are going to read this as a key weakness."
Commerce Secretary Wilbur Ross: Tariff delays were not a trade 'quid pro quo' with China [CNBC]
Trump says he delayed tariffs because of concerns over Christmas shopping season [CNBC]
Trump just blinked, giving China a possible edge in trade war, Jim Chanos and others say [CNBC]
Stock Markets Slide as Bonds Signal Rising Concern About Growth [NYT]