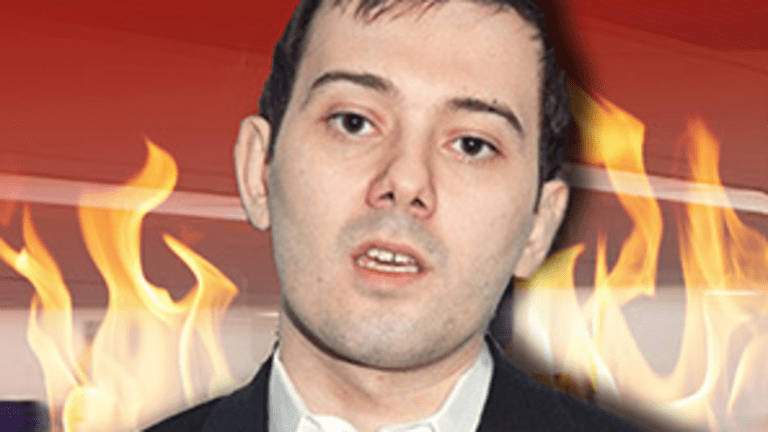 Martin Shkreli Wants To Keep "Not" Defrauding New Jersey Contractor A Little Longer
But he promises he'll pay up if John Roberts tells him to.
Martin Shkreli, the littlest federal inmate with the world's most punchable face, has sure kept himself busy behind bars. He's made some new friends, decided under advisement of those friends not to make some more out of some musically-inclined child molesters, gotten (or is trying to get) some abs and, oh yea, continued to fire people and run his business in spite of being imprisoned for defrauding people he does business with, and also in contravention of prison rules. But that is just one aspect of Shkreli's incarceration activity, one that admittedly has dried up a bit since he was thrown in solitary and moved to a new jail when word of his illicit business-doing cellphone appeared in The Wall Street Journal after he totally didn't call them to tell them about it.
Indeed, Shkreli is also hard at work on matters legal. He filed and then settled a whole slew of lawsuits between himself and one of his former companies and its executives. And despite tearily telling a judge at his sentencing last year that he was the only person to blame for the seven-year term he was about to receive, Shkreli clearly believes that something else is to blame, specifically the same judge, who he thinks improperly instructed the jury that convicted him. Unfortunately, the Second Circuit Court of Appeals did not agree with that legal analysis, but he'd like the Supreme Court to weigh in on what, really, the words "securities fraud" mean, undoubtedly expecting a favorable hearing from fellow bro-douchebag Brett Kavanaugh. In the meantime—reprising a classic strategy of his well-known to Whitney Tilson—he'd like to not pay one specific victim.
The "Pharma Bro's" lawyers on Friday asked Judge Kiyo Matsumoto to block the release of $473,327.26 from a court-controlled account "because Mr. Shkreli has not yet exhausted his right to appeal his conviction…."

The government on Thursday asked the court to release that cash to pay $388,336.49 in restitution to Richard Kocher, a New Jersey construction owner who invested $200,000 in Shkreli's hedge fund in 2012.
Pharma Bro Martin Shkreli wants to delay restitution to one of his victims while he pursues Supreme Court appeal [NYDN]
'Pharma bro' Martin Shkreli settles all cases with Retrophin weeks after suing drug company's directors from prison [CNBC]