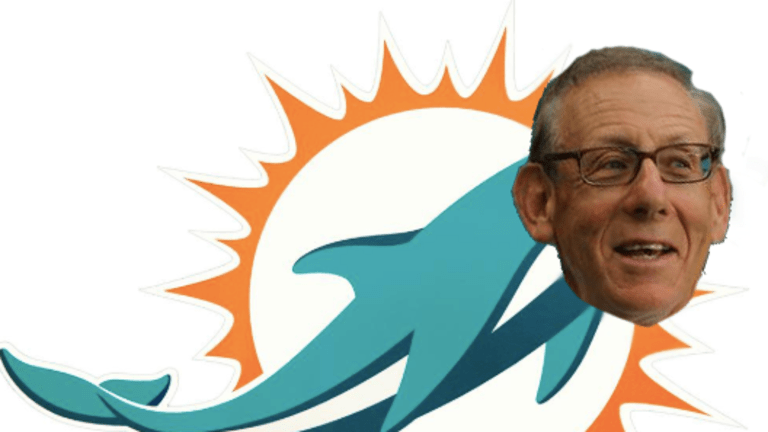 Steve Ross Little Fundraiser Is Another Reminder Of NFL's Tenuous Grasp On Labor Peace
The Dolphins training camp just got political.
One year ago, the Broward County Police Benevolent Association called for a boycott of the Miami Dolphins after wide receivers Kenny Stills and Albert Wilson took a knee, and defensive end Robert Quinn held up a clenched fist during the national anthem before a preseason game.
The Dolphins did not exactly feel the pinch of that boycott, as even though they went 7-9, Miami's home attendance for the season averaged 65,560 fans, or 101.2% of capacity at Hard Rock Stadium (formerly New Miami Stadium (formerly Sun Life Stadium (formerly Dolphin Stadium (formerly Land Shark Stadium (formerly Dolphin Stadium again (formerly Dolphins Stadium (formerly Pro Player Stadium (formerly Pro Player Park (formerly Joe Robbie Stadium))))))))).
So, we'll see what happens in 2019, as Stills on Wednesday was a notable member of the chorus of critics for Dolphins owner Stephen Ross as the billionaire prepares to host a Hamptons fundraiser for Donald Trump. Stills did not call for a boycott of the team that he continues to play for, only pointing out the hypocrisy of Ross' fervent support of Trump while also operating the Ross Initiative in Sports for Equality, which "educates and empowers the sports community to eliminate racial discrimination, champion social justice and improve race relations."
While boycott talk is centered on a couple of Ross' other businesses, namely SoulCycle and Equinox, the Dolphins are not immune, and for as much as Trump has blasted the NFL over the years, Ross is not alone among franchise owners in giving him financial support. The million bucks that Jerry Jones gave to the Trump inaugural committee, for instance, stands in stark contrast to the $50,000 donation that Jones made, through his foundation, to the El Paso Community Foundation Victims' Fund after last week's shooting. Obviously, any help for El Paso is a good thing, it's just that when you're cutting million-dollar checks to a virulent racist's slush fund, but tossing a token donation to victims of a crime inspired by that virulent racist, it's going to cause some people to examine whether they want to continue giving money to you and your business.
This kind of scrutiny is not what the NFL wants, not when preseason is starting and Colin Kaepernick is reminding the world that the league has essentially kept him out of work because of his activism. Stills plans to continue to kneel during the anthem this season, which is sure to draw further rebukes from the right, even if last year's police union action proved meaningless at the gate. But there is a gradual loosening of the NFL's grip on the public interest that dates back to before the Trump presidency – Super Bowl television viewership has declined for four straight years – and having anger coming at the league from all sides of the political spectrum, not least of all those who would like sports to be totally free from politics (something that is impossible, but people do want it), is only going to serve to continue that trend.