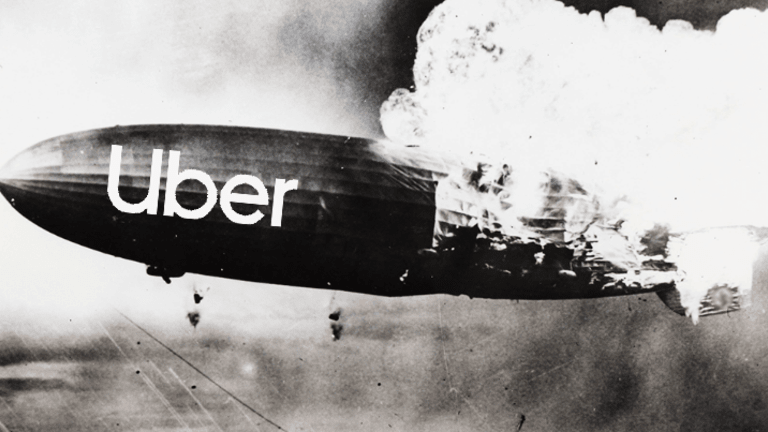 Uber Saves $200K On Balloons, Tacitly Admits To Shareholders It Was Spending $200K On Balloons
Actual...f@cking...balloons.
You know how Uber stock is down like 20% after the company reported that it had somehow managed to lose $5.2 billion in one single quarter? And how CEO Dara Khosrowshahi went on CNBC and told David Faber that some little one-time things all combined to give Uber "a messy PNL from an accounting standpoint," and therefore an anomalously bad quarter? And remember how everyone realized that "Holy shit, Uber is not being particularly well run for something we just valued at $82 billion"?   
Well, it turns out that shareholders are correct to worry that Uber is still being run like a coked-up tween with a no-limit credit card. Per Crunchbase News:
Last week, Uber's chief financial officer, Nelson Chai, sent an all-company email announcing a minor policy change. Uber marks the anniversary of employees' work at the company, which is internally referred to an "Uberversary."

But now, instead of marking another year of service with helium balloons at their desk, the on-demand transportation giant will start giving its employees stickers to mark the occasion. Chai said in his email that the switch could save the company more than $200,000 at its offices in San Francisco alone.

"It's not only a great way to find dollars we can invest back into the business, it's also more environmentally friendly," Chai's message said. Crunchbase News was shown the email by a recipient, who did so on condition of anonymity. Uber did not respond to requests for comment prior to publication.
Well, congrats on the savings there, Uber. But can we offer a tip?
This email is cause for terminating Nelson Chai.
Uber is not a startup anymore. You're a $57 billion public company with shareholders who are freaking out about your spending, and your CFO is writing emails to staff tacitly admitting that you have been spending $200k on actual balloons for Uber's birthday party every year? What are you DOOOOOOOING?
 This is not smart management, it's an admission of previous mismanagement, and now it's in an email. Just cancel the balloon order, buy the stickers and shut the fuck up. Now the email is on Crunchbase News...and that's bad, probably[?].
Uber is ten years old, it's not A ten-year-old. 
This is not a story about getting better, it's a story about being overly proud of learning to stop fucking up.
Deflated, Uber May Swap Anniversary Balloons For Stickers To Save $200K Per Year [Crunchbase News]