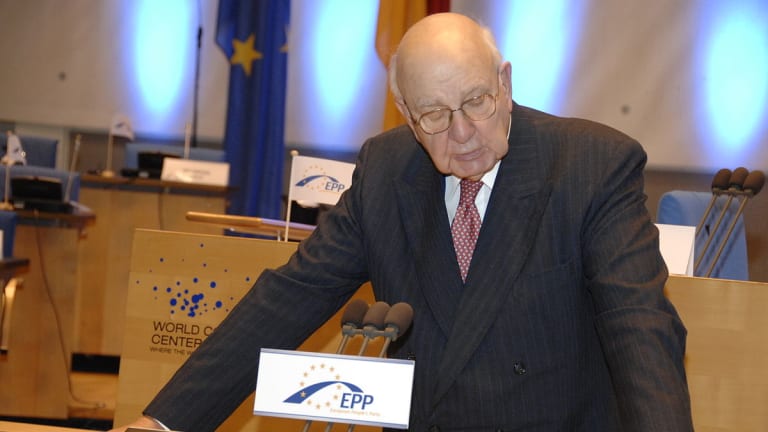 Keep Paul Volcker In Your Thoughts
R.I.P. Volcker Rule, 2009-2019.
No 91-year-old man should have to bury his beloved child. Yet that is the tragic situation in which Paul Volcker finds himself.
Two financial regulators on Tuesday approved changes relaxing trading restrictions for midsize banks and easing compliance for the biggest banks…. Among the changes, firms with less than $1 billion in trading assets and liabilities—including midsize firms that engage in hedging for agricultural loans or other trades made on behalf of clients—will be given the benefit of the doubt by regulators that they comply with the Volcker rule's trading restrictions.
But, you say, Jelena McWilliams and Joseph Otting haven't really killed the Volcker rule. There are still, like, other trading restrictions, and CEOs still have to at least be made aware of their banks' compliance programs. And even an opponent of the changes, FDIC board member Martin Gruenberg, estimates that only 25% of financial instruments have been freed from the former Fed chairman's grasp.
However, giving banks the benefit of the doubt was never Paul Volcker's intention. And he loved his namesake rule just the way it was, and wouldn't hear a bad word said about it. Even before these changes, no one could figure out the difference between prop trading and market making, so what chance have they got now? What's more, given the endless series of delays in implementing it, the Volcker rule never really saw the full light of day, breathed deep and made Jamie Dimon really hurt, which puts paid to all of those arguments that after nine years, it was maybe time to give the little guy a few tweaks. The fact that Paul Volcker saw it all coming only makes it that much sadder.
R.I.P.