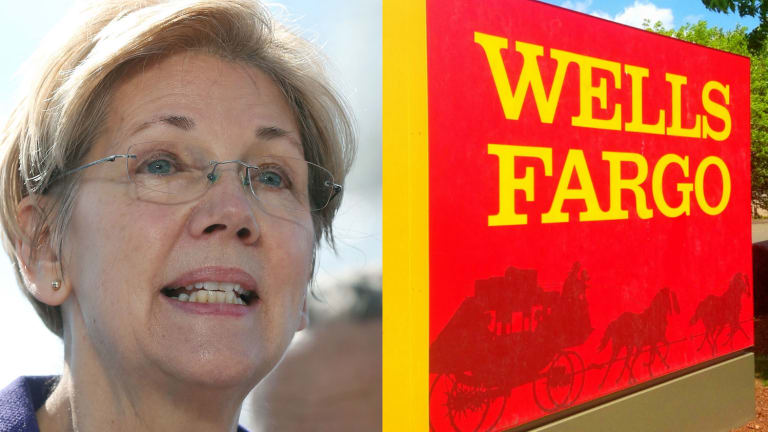 Elizabeth Warren Rekindles Hate-Hate Relationship With Wells Fargo
America's least competent bank ripping off former customers is the stuff of the presidential candidate's angry dreams.
For a long time, Wells Fargo was Elizabeth Warren's favorite punching bag and poster boy for all that was wrong with Wall Street and banks and the financial services industry in general. There were good reasons for this, in that it was both easy and sometimes more than a little justified. But it's been a while since the senator gave that particular dead horse a good beating. To be fair, she's been a bit busy with other things, like running for president, and savaging college roommates Eddie Lampert and Steve Mnuchin.
In the interim, Wells Fargo has hardly stopped screwing up, and it was only a matter of time before Warren noticed that, for instance, Wells was charging thousands of dollars in overdraft fees on accounts it had closed. Note to C. Allen Parker or whoever is unlucky enough to succeed him: This is kind of thing that Elizabeth Warren stump speeches are made of.
In a letter to C. Allen Parker on Monday, Ms. Warren asked how much money the bank had collected over the past five years by charging overdraft fees on empty accounts past the dates on which accounts were supposedly closed….

"These new revelations raise grave concerns that despite these assurances, Wells Fargo is still fundamentally broken and has not only continued to scam customers out of thousands of dollars with impunity, but has even targeted customers who were attempting to leave the bank — and may have been victims of previous scams — to unfairly collect one final set of lucrative fees for Wells Fargo," Ms. Warren wrote.
Elizabeth Warren Wants Wells Fargo to Explain Fees on Closed Accounts [NYT]
Wells Fargo Closed Their Accounts, but the Fees Continued to Mount [NYT]