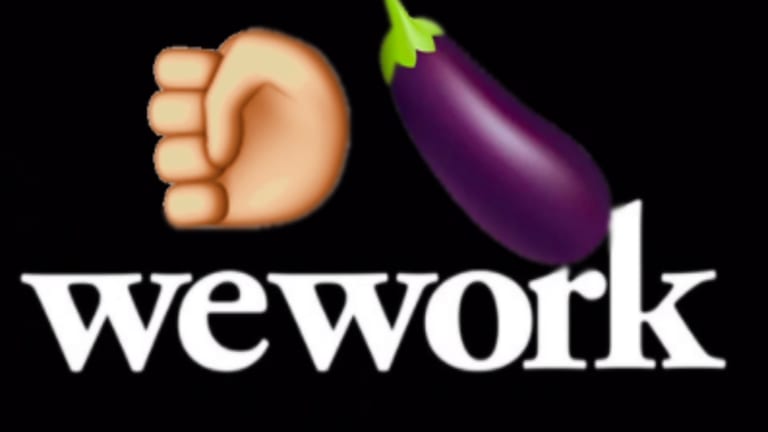 WeWork Officially Files To Be The Last IPO
This S-1 filing is a word quilt made up of every bad idea from every IPO of the past five years.
In the spring of 2015, Etsy introduced us to the concept of a company going public while hemorrhaging money despite pulling down massive amounts of revenue.
Two years later, Snapchat introduced us to the new reality of a company going public with no profit plan at all, full acknowledgment that it existed entirely at the whim of a larger competitor, and a stock structure that put almost total control in the hands of its founder.
Weeks after that, Blue Apron filed for an IPO that valued it at almost $2 billion, despite a tacit admission that it might never be profitable, and existential threat in Amazon, batshit spending, shrinking revenue and almost all voting shares in the hands of the founders and their closest advisors.
All of those stocks -- and more than a handful like them -- were met with initial excitement from Wall Street before either plummeting immediately or immediately after their first earnings report reminded investors that they were nowhere near profitable, had no clear path to profitability due to private equity-fueled spending addictions, and would never be forced to change their behavior.
Since then, we've had a few more like Pinterest, Lyft, and Uber: IPOs that have been variations on the theme, borrowing elements from its predecessors in pursuit of its own batshit, pre-public money narrative. But today, we have the ultimate document. The thing that this whole counterfactual modern tech IPO market has been careening towards for five years.
Ladies and gentlemen, the WeWork S-1 is upon us.
And while we have been pretty public about how high our hopes were for the inherent satire of this document, we are delighted to report that this thing is better than we could have ever dreamed.
Is there the kind of self-pleasuring word nonsense that we've come to expect from WeWork? Only right off the bat:
We are a community company committed to maximum global impact. Our mission is to elevate the world's consciousness. We have built a worldwide platform that supports growth, shared experiences and true success. We provide our members with flexible access to beautiful spaces, a culture of inclusivity and the energy of an inspired community, all connected by our extensive technology infrastructure. We believe our company has the power to elevate how people work, live and grow.
That means nothing! And neither do WeWork's numbers!
WeWork is spending almost two dollars for every dollar it makes. That's how "community-adjusted EBITDA" works. It's...beautiful.
But don't worry, it's totally clear where all that money is all going:
See? This is the simplified version.
But it's not easy to draw a chart when you can barely separate the company from the man who founded it. And don't take our word for it, take WeWork's:
Adam has served as the Company's Chief Executive Officer and Chairman of the Company's board of directors since our inception. From the day he WeWork, Adam has set the Company's vision, strategic direction and execution priorities. Adam is a unique leader who has proven he can simultaneously wear the hats of visionary, operator and innovator, while thriving as a community and culture creator. Given his deep involvement in all aspects of the growth of our company, Adam's personal dealings have evolved across a number of direct and indirect transactions and relationships with the Company. As we make the transition to a public company, we aim to provide clarity and transparency on the history of these relationships and transactions, as well as the background to the strategic governance decisions that have been made by Adam and the Company.
Which is why it seems cool that:
We have entered into a number of transactions with related parties, including our significant stockholders, directors and executive officers and other employees. For example, we have entered into several transactions with our Co-Founder and Chief Executive Officer, Adam Neumann, including leases with landlord entities in which Adam has or had a significant ownership interest. 
But it would be very uncool for future investors to fuck with Adam's internal deals because:

Our future success depends in large part on the continued service of Adam Neumann, our Co-Founder and Chief Executive Officer, which cannot be ensured or guaranteed.

Adam Neumann, our Co-Founder and Chief Executive Officer, is critical to our operations. Adam has been key to setting our vision, strategic direction and execution priorities. We have no employment agreement in place with Adam, and there can be no assurance that Adam will continue to work for us or serve our interests in any capacity. If Adam does not continue to serve as our Chief Executive Officer, it could have a material adverse effect on our business.
Not that it would matter if those investors even wanted to get rid of him since:
Adam Neumann will control a majority of our voting stock upon completion of this offering.
So you should all just ignore: 
In May 2019, Axios and Business Insider published online news articles that included quotes from Adam Neumann, our Co-Founder and Chief Executive Officer, and Artie Minson, our Co-President and Chief Financial Officer, regarding our business strategy and results. In addition to these articles, there has been substantial additional press coverage regarding our business and this offering during the offering process, including coverage of the timing of this offering, the underwriters involved in this offering and the "analyst day" that we hosted in connection with this offering as well as coverage of our concurrent debt financing...We do not believe that our involvement in the May 2019 online news articles or other news articles constitutes a violation of Section 5 of the Securities Act. However, if our involvement were held by a court to be in violation of the Securities Act, we could be required to repurchase the shares sold to purchasers in this offering at the original purchase price, plus statutory interest from the date of purchase, for a period of one year following the date of the violation. We would contest vigorously any claim that a violation of the Securities Act occurred and could incur considerable expense in contesting any such claim.
And, besides, he's already elbow deep into WeWork from both sides of this IPO:
UBS AG, Stamford Branch, JPMorgan Chase Bank, N.A. and Credit Suisse AG, New York Branch, affiliates of the underwriters in this offering, have provided a line of credit of up to $500 million to Adam Neumann, of which approximately $380 million principal amount was outstanding as of July 31, 2019.
This S-1 has it all. 
WeWork is losing more money than is almost conceivable, is offering no plan or future profit whatsoever, is already exposed to a fast-growing co-working sector full of competitors, is still experimenting with what it actually does, and has placed an almost messianic faith in its founder...who also controls all the real stock and is making it clear he has no interest in clearing up the blurry line between his personal finances and those of the company in which he's offering you actual shares for money.
WeWork isn't the next IPO. It's the last IPO, because this can never be topped.
We're going to do a few more posts on this S-1 tomorrow, but for today we just want you all to sit back and enjoy it in full: