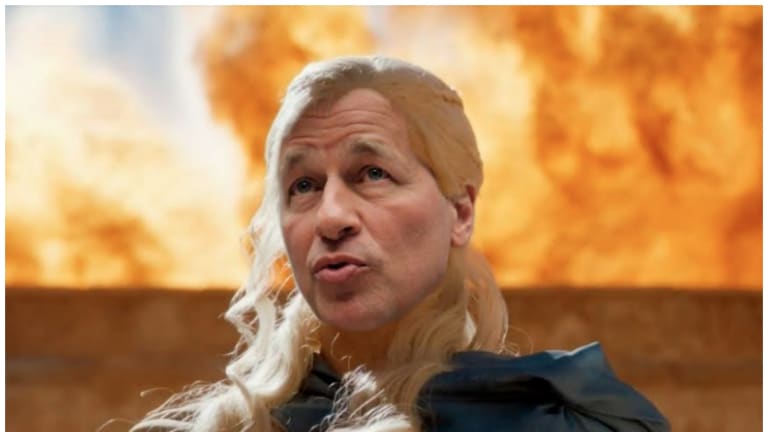 Adam Neumann's Active Fantasy Life Includes An Intimate Future Relationship With Jamie Dimon
Hard to see how Jamie is going to be Neumann's personal banker from THE OVAL OFFICE.
Far be it for us to posit that making wild predictions about Jamie Dimon's future is a sign of mental distress...but then again, ours turned out to be almost prophetic. We can't say the same for what soon-to-be-former WeWork CEO Adam Neumann is telling people about Ser Jamie's next act.
Per Vanity Fair:
Neumann told another finance executive that JPMorgan Chase CEO Jamie Dimon was his "personal banker" and that Dimon might leave JPMorgan to run the Neumanns' family investment fund, a person briefed on the conversation said. (A source close to Neumann denied this, and a source close to Dimon told me Dimon has no plans to leave JPMorgan.) 
From what we've heard about Neumann over the past week, this seems like a believable tale. From what we know about Jamie....BWAHAHAHAHA.
To be frank, we would love if this were true. The idea of Jamie Dimon being the personal banker to the Neumanns is not so much something we'd enjoy thinking about as much as it's a surefire opportunity to grab a camera crew and make a reality TV mega-hit. It would last 3 episodes before Jamie turns over a desk and calls the SEC on his own clients. 
But this is obviously a ridiculous idea. Jamie Dimon leaving the corner office at a global megabank to work at the whim of performatively batshit billionaires who think everything they do is a mystic balm to the pains of the world is a less a career move than an act of self-harm.
So, yeah, the Neumanns are definitely going to hire Brian Moynihan.
"ADAM'S FANTASYLAND BECAME A REALITY": INSIDE THE CRASH OF WEWORK'S MAGIC MILLENNIAL REAL ESTATE KINGDOM [VF]