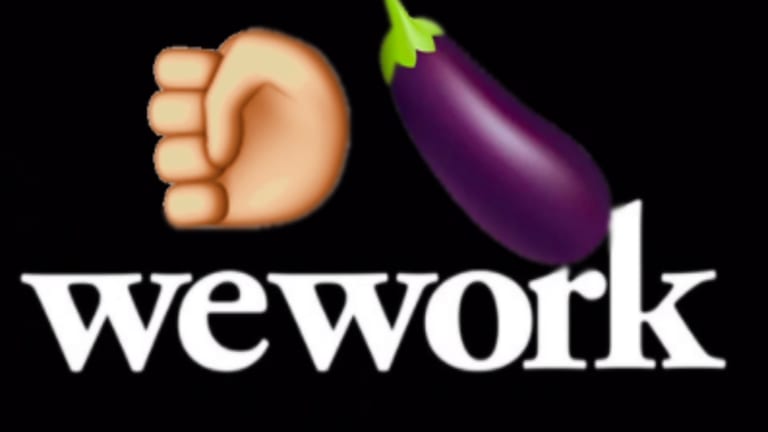 Adam Neumann Is Going To Need A New Workspace
Masa Son controls the WeWork board, and the guy who founded the company is about to see what that means.
It was a long weekend for the man who was thisclose to making the public give him billions of dollars in exchange for elevating the world's consciousness...
SoftBank Group's Masayoshi Son is in favor of removing WeWork's Adam Neumann as CEO, as the company's directors plan to meet as soon as this week to propose Neumann step down, according to people familiar with the matter. Spokesmen for both SoftBank and WeWork declined to comment.
Rumors have been circling for a week that WeWork's newly-created board is split on whether Neumann can lead the company into what is now an uncertain future. Neumann was the self-mythologized centerpiece of WeWork's IPO plans, cited in the S-1 thusly: "Adam is a unique leader who has proven he can simultaneously wear the hats of visionary, operator and innovator, while thriving as a community and culture creator." But that was six weeks and $37 billion in valuation ago. 
In the meantime, Neumann's corporate demeanor, spending habits, and his general own sense of self have made it utterly impossible for even the most bullish WeWork bull to ignore WeWork's troubling finances. It was only a matter of time before the people most invested in WeWork without the surname Neumann took umbrage with his leadership and staged a coup. To be frank, we thought it would take longer than a few days for this whole thing to commence. 
We were wrong, but when we look at the makeup of WeWork's board, it's a little embarrassing that we missed it.
To understand what's going to take out Adam Neumann, it's illustrative to go back and look at the downfall of our old pal Travis Kalanick at Uber: After similarly taking a metric shit-ton of private equity money and letting himself fall into the  trap of buying his own messianic tech founder bullshit, Kalanick was deposed by his own board. That coup was led by the VCs who staked him the most, Benchmark Capital. The people who wanted to profit from Uber acted on their delayed realization that Uber's P&L would never improve under the leadership of a man who couldn't separate his own ego from the company he'd founded, and that confusion had transferred over to Wall Street where Kalanick's "Toxic Tech Bro" persona became a liability for Uber.
Sound familiar?
Well, only a little. 
After the WSJ published a report last week that pulled back the very thin veil on Neumann's day-to-day behavior [he wants to be a trillionaire "President of The World" and disrupt the concept of orphans], Neumann fell into something beyond Kalanick territory. Unlike Travis, our new friend Adam seems to have no sense of how to prevent one face to the public and another internally. He also seems to lacks Travis' instinctual understanding of the scrutiny that an IPO brings. Kalanick fought going public until it was too late, while Neumann seemed illogically unafraid to present a private equity-bloated vanity project with no corporate oversight and billions in operating losses to investors and then ask for a $47 billion without thinking that anyone would have questions. 
Masa Son has clearly decided that he can no longer wait for Neumann to see the light.
And this is where it all falls apart because WeWork's board is central casting for a successful coup against Neumann.
WeWork's board is six old guys: Lewis Frankfort, Bruce Dunlevie, Ronald Fisher, Steven Langman, John Zhao and Mark Schwartz. Frankfort, Langman and Zhao are both investor/entrepreneur types and Neumann's most natural allies...kinda. Frankfort is a former technocrat and VC who happens to be into the company for a multi-million dollar loan. Langman is a former M&A guy at Goldman and Lazard who's been doing PE since the mid-90s and has been with Neumann since 2012. Zhao is a private equity titan and Neumann's man in China. He's also maybe a wild card.
Dunlevie is a VC at literally Benchmark Capital where he was involved with the Kalanick coup. He's been with Neumann a long time, but he poses the most efficacious threat as he's already seen how these things play out. Fisher is a tech lifer and current SoftBank vice-chairman. He's the connective tissue between Masa Son and Neumann, making him the one who stands to lose most from a bad IPO, and his loyalty lies with Son, not Neumann. Lastly, we have Schwartz, a former key player at Lloyd Blankfein's Goldman where he ran the entire i-banking operation in Asia and sat on the executive committee before moving over to the board of SoftBank and from which he stepped down last year. Schwartz is the guy to watch here; he's no longer involved directly with SoftBank, but he wants the best outcome for his investment, and he's coming at this with the deep depersonalization that one picks up on the upper floors of 200 West Street.
If Masa Son has decided that Neumann needs to go, then he almost certainly has Schwartz, Fisher and Dunlevie on board. He might also have Zhao, who does not stand to benefit from a $10 billion IPO after investing at something "a scooch" higher. Those 3 [maybe 4] can use Dunlevie's Benchmark playbook to show Neumann that it's their way or the hard way, essentially neutralizing the loyal duo and forcing Neumann into an embarrassing fight/resignation or a shameful removal. Unlike Kalanick, there is no Arianna Huffington here to side with Neumann. Langman doesn't have the juice for that role.
Now, we're just clown gaming this out from well outside the mix, but we're also not wrong. 
And speaking of being smart, we look forward to Dick Costolo or Lawrence Tosi being named the new CEO of WeWork by the end of next week.