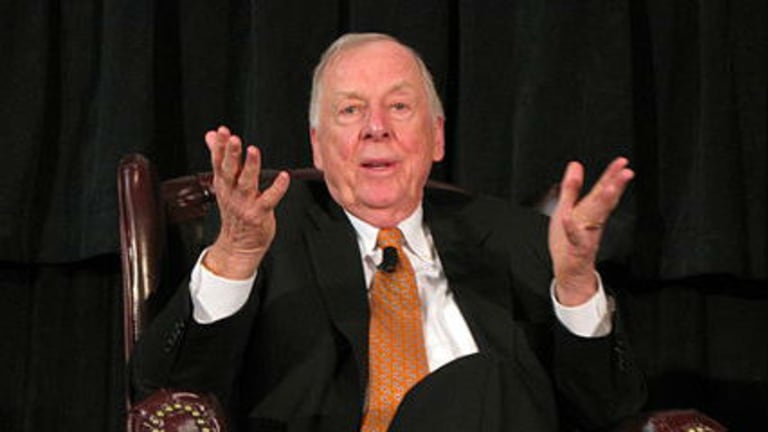 Death Completes Hostile Takeover Of T. Boone Pickens
The legendary wildcatter and corporate raider is survived by his renewable energy ETF.
There are many unkind things one could say about T. Boone Pickens, who is now dead. He sort of invented corporate raiding. He made his billions destroying the environment. A man who made sure to avoid military service himself, he helped give us four more years of George W. Bush by viciously slandering John Kerry's. He was perhaps not the best father of all time. He essentially owns Oklahoma State.
But Pickens was a bit more complicated than his almost cartoonish cowboy-wildcatter persona would suggest (not that this exactly acquits him of the above). For one, unlike many similarly successful men of his ilk, Pickens was never much of a dogmatist, which is to say, he was at least capable of changing his mind, something that feels like an altogether too-rare commodity these days. He changed his mind about his wives (four times). Less happily, he changed his mind about Donald Trump. In spite of how much he loved driving around Texas randomly drilling for oil, he gave it up when he realized that it was easier and most lucrative to just launch hostile takeovers of other oil and gas companies, and eventually, became one of the biggest proponents of alternative energy sources in the U.S., and, indeed, the exchange-traded fund that will serve as his monument (in addition to the OSU football stadium, that is) gave up on oil (and his namesake ticker symbol) to go all in on renewables just a month before his death.
"A guy that was a good old-fashioned wildcatter is now saying that solar and wind and geothermal and biomass, that we need to embrace it," Toby Loftin, the firm's founder, said in an interview in Houston. "He's been saying that for 11 years publicly, but this just puts the cherry on top…." The revamped ETF, which will trade as RENW, is based on an index of companies that derive "significant revenue" from renewables or meet a large portion of their energy needs from renewable sources.
Oilman T. Boone Pickens Jr. Dies [WSJ]
T. Boone Pickens, the 'Oracle of Oil,' corporate raider and billionaire philanthropist, dies at 91 [CNBC]
T. Boone Pickens ETF to Replace Crude Stocks With Renewables [Bloomberg]