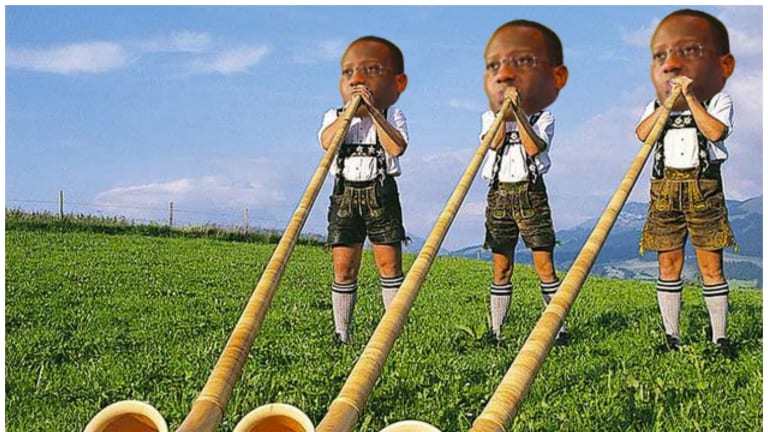 Credit Suisse Wants Rich Clients To Pay A Premium For All That Suisse
With the European economy in not-so slow collapse, Tidjane Thiam is wondering how much people like having their money in Swiss Francs.
As Europe plunges toward a negative interest rate environment and we here in the US keep doing whatever the fuck it is we're doing, it makes sense for the wealthy and those managing them to plow into something boring and solid.
In Europe, the Swiss Franc remains a fun little island of relative sanity. Aside from being managed by a culturally-mandated cynical central bank [that we assume is made of chocolate] answering to a populous that is super-cautious about inflation, the Swiss are able to stand at a safe distance from Brexit, and whichever Mediterranean nation is copping to a debt crisis this year. 
Adding in the fact that the Swiss National Bank engages in a lot of fun stuff that isn't technically currency manipulation, and that its biggest supporters think it's overvalued, it makes sense that people with money to park long-term still like the Swiss Franc. So with negative interest rates about to blow a Euro-sized hole in his salvation plan for the bank, Credit Suisse CEO Tidjane Thiam has a plan:
Credit Suisse Group AG plans to impose charges on more wealthy clients as it prepares to spread the pain of negative interest rates.

The bank expects to start charging for Swiss franc deposits after imposing a 0.4% fee on euro accounts of more than 1 million euros ($1.1 million), according to a person with knowledge of the matter. Credit Suisse plans to inform private banking clients of the franc deposit charges in the autumn, the person said, asking not to be identified because the matter is private.
If his bank is going to have to literally pay to hold Euros, why not see if he can get back a little Emanthaler for letting people keep their sweet CHF deposited on his books? So please excuse Thiam for getting a little "Old Man Potter" on his clients here, it's been a while since he's had something people actually want, why would he not leverage the fuck out of it to keep some money moving?
Oh, and also this whole thing is a super fucking bad indicator of where things are headed.
Credit Suisse to Charge Wealthy for Swiss Franc Holdings [Bloomberg]