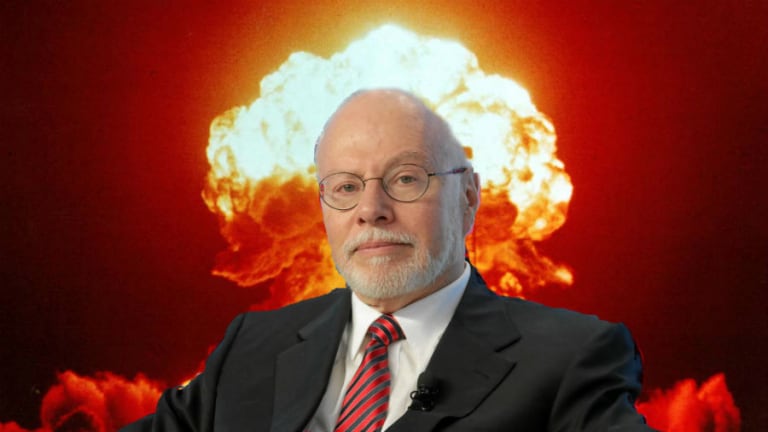 Paul Singer Really Sure Economy's On The Brink This Time, Needs Your Money To Keep Busy During Downturn
Two-plus years and $5 billion later, it's finally happening.
Two-and-a-half years ago, Paul Singer garnered $5 billion in extra funding, ready to deploy at the myriad opportunities to be presented by the Trumponomic supercollapse. The most feared aspects of that extinction-level financial depression haven't come about; indeed, few if any have: The market's up almost 40% since Election Day 2016, the dollar remains presidential-fury-inducingly strong, and even a trade war has hardly dented things. Still, Singer hasn't had too much trouble finding ways to put that fresh cash to good use, most recently declaring war on AT&T, of all things.
The thing is, though, the shit will inevitably have to hit the fan—sooner rather than later, sayeth the former Never-Trumper.
"The global financial system is very much toward the risky end of the spectrum in terms of debt," Mr Singer said during a panel at the Aspen Ideas Festival in July. "Global debt is at an all-time high, derivatives are at an all-time high and it took all of this monetary ease to get to where we are today".
The problem is, Singer's spent all of his doomsday dry powder on screwing over Warren Buffett and Rupert Murdoch, and also on his favorite tipple. So for the economic catastrophe to come, he needs some fresh scratch. More than last time, actually.
The $38.3bn activist fund led by Paul Singer has been building up a sizeable war chest to spend on new opportunities, including a $2bn co-investment fund that closed in August to take companies private…. Elliott could raise a further $5bn in the new funding round, according to an investor familiar with the terms…. The new capital raising is further indication that Mr Singer is anticipating a market meltdown….

Elliott is up 4.5 per cent through to the end of August, according to a person familiar with the fund's returns.