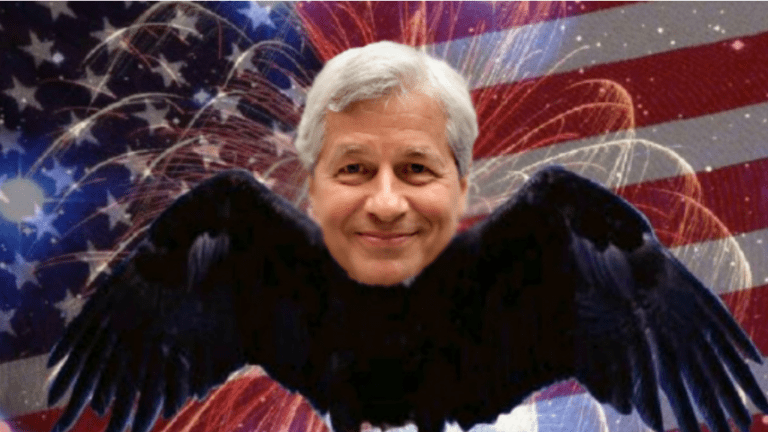 CEOs See Slowdown Because Why Spend Money On Stuff That's Just Gonna Go Up In Flames At The Imminent End of Days?
A Business Roundtable survey of CEOs shows strong bearish sentiment -- with the possible exception of leaders of companies selling can openers, water-purification kits, freeze-dry foodstuffs, and live ammunition.
Top U.S executives just downgraded their outlook for growth, and are hinting that the ongoing trade war is hurting their companies' bottom line.
In a Business Roundtable survey released today, the country's business leaders forecasted sluggish sales and slumping capital investment. A fifth of the executives said they expected their businesses' sales to decrease within the next six months (as compared to 9% last quarter), while a full 63% predicted no positive net change in their CapEx. Projections about new hirings declined as well, although not as notably.

What is turning these Knights of the Round Table into such nervous Nellies?
Well, for one thing, the surveyed expressed apprehension about the global slowdown in economic growth. They forecasted 2019's GDP growth rate to cap off at 2.3%, a percentage 0.3pp lower than their 2.6% estimate last quarter.

But the deeper reason the paladins plan on buying fewer trebuchets has to do with trade. The members of the Business Roundtable cited concerns about "geopolitical uncertainty" and underscored that current U.S. trade policy was bad for business:
Business Roundtable posed a special question this quarter asking CEOs to look back at the last twelve months and report how U.S. trade policy and retaliation from foreign nations has affected their businesses. Almost no CEO reported a positive impact on their business.
More than half of CEOs reported a somewhat or very negative impact on sales. One-third of CEOs reported a somewhat or very negative impact on hiring. One-fourth of all CEOs – and 40% of CEOs within the manufacturing sector – reported a somewhat or very negative effect on CapEx.
Business Roundtable President Joshua Bolten went further, saying that uncertainty about trade is "preventing the full potential of the economy from being unleashed." Bolten highlighted that "opening markets and promoting rules-based trade remains vital to U.S. economic prosperity, and called on Congress and the President to enact the new U.S.-Mexico-Canada Agreement.
What does Business Roundtable Chairman Jamie Dimon think of these grave matters?
"The U.S. needs strong, sustained long term economic growth in order to remain globally competitive and expand opportunity for more Americans. Business Roundtable CEOs stand ready to work with policymakers to address our nation's biggest challenges to create conditions for inclusive growth, investment and job creation here in America."
Dimon was later heard telling a reporter that the sun typically rises in the east, and that dropped objects fall at least two-thirds of the time. He also remarked at some length on his deep fondness for puppies.
The Business Roundtable has received praise for its reorientation of corporate shareholder value. It remains to be seen whether its ringing of the alarm bell will be met with similar accolades.
Follow Jack Farley on Twitter @JackFarley96