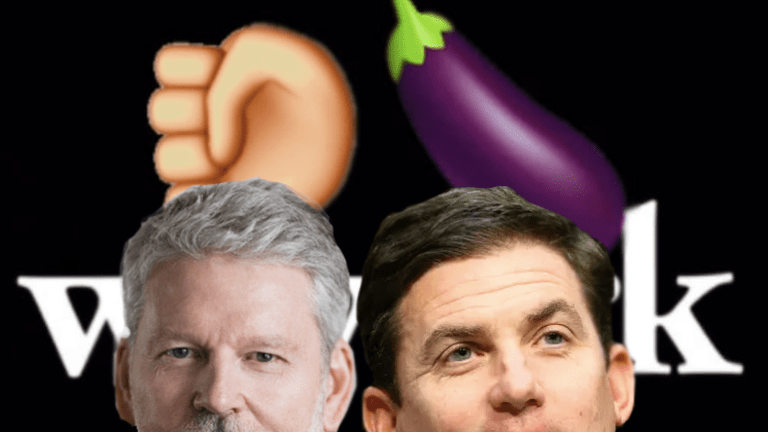 WeWork Calms Investors By Pointing Out That One Of Its New CEOs Knows All About Success From That Time He Worked At AOL
Maybe We should highlight Artie Minson's other gigs?
With Adam Neumann performatively sorta out of the picture, WeWork is spinning hard to introduce everyone to the two adults that it has chosen to replace its wayward leader.
So, let's meet these "lucky" sumbitches! Take it away, CNBC:
The co-CEOs named to replace him, Artie Minson and Sebastian Gunningham, are veterans of the media and tech industries but have never held the top position at prior employers. They're now tasked with righting a 15,000-person company that recorded more than $800 million in revenue in the latest quarter and, according to Tuesday's press release, is generating over $4 billion in annualized sales, but lost over $600 million in the June quarter.
That sounds fun!
So media and tech veterans? Let's see some resumes, gentlemen:
Prior to joining WeWork as vice chairman last year, Gunningham, 57, spent over a decade at Amazon, ultimately running the company's marketplace business. He was one of CEO Jeff Bezos's closest advisors, and was part of his elite group of top lieutenants, known as the S-team, for most of his time there. He oversaw more than 30,000 people.

Before his career at Amazon, Gunningham, was a senior executive at Apple and Oracle, working closely with high profile CEOs Steve Jobs and Larry Ellison.
Wow, ok, that's some resume. Short on actual leadership and he's relatively new to the business, but we can buy the narrative that he's learned a lot about running the show from three absolute titans of modern business. 
That said, word on the street is that Gunningham is the 1A CEO here, and that Minson will be the Alpha dog. So let's learn about him:
A graduate of Georgetown University and Columbia Business School, Minson worked as an auditor for Ernst & Young after school before jumping over to Time Warner in 1998 as the internet bubble was blowing up. He took both AOL and Time Warner Cable public, and worked for Ted Leonsis and Tim Armstrong.

The Financial Times described him in a story last week as "an Irish Catholic from Queens" who "makes for a useful straight man" to Neumann's extravagance.
An outer-borough Irish Catholic who worked at AOL in the late 90s? Well, we know who's coping best with the existential shame and self-recrimination at WeWork HQ this week! 
But also is We really touting an executive gig at AOL as a bona fide? Didn't he do anything less embarrassing? Like running R&D at BlackBerry?
In 2000, he joined Rainbow Media Holdings, the entertainment company that became AMC Networks, where he eventually ran finance. 
Oh, that's cooler! And it shows that he had the good sense to get in on something cool before it made smash hits like "Mad Men" and "Breaking Bad." But it mostly illustrates that he had the smarts to get away from AOL before things became darkly comically terrible...
Four years later, he was hired as senior vice president of finance at AOL's broadband unit and worked his way up to becoming CFO in 2009, overseeing the spinoff from Time Warner. In 2013, he was named executive vice president of Time Warner Cable, and helped sell the business to Charter Communications 
This guy really is Irish Catholic.
Well, it will be fun to watch these two keep the WeWork CEO seat warm for Maëlle Gavet. 
WeWork's new co-CEOs have experience at tech giants like Amazon and AOL [CNBC]